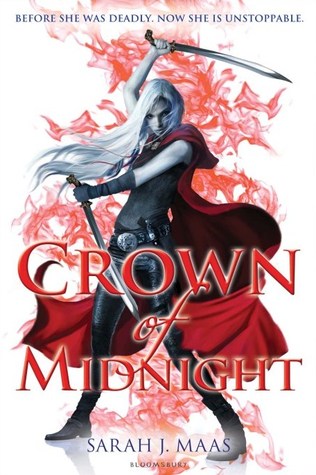 Title: Crown of Midnight
Author: Sarah J. Maas
Publisher: Bloomsbury
Buy This Book: Amazon
/ Book Depository
Eighteen-year-old Celaena Sardothien is bold, daring and beautiful – the perfect seductress and the greatest assassin her world has ever known. But though she won the King's contest and became his champion, Celaena has been granted neither her liberty nor the freedom to follow her heart. The slavery of the suffocating salt mines of Endovier that scarred her past is nothing compared to a life bound to her darkest enemy, a king whose rule is so dark and evil it is near impossible to defy. Celaena faces a choice that is tearing her heart to pieces: kill in cold blood for a man she hates, or risk sentencing those she loves to death. Celaena must decide what she will fight for: survival, love or the future of a kingdom. Because an assassin cannot have it all . . . And trying to may just destroy her. (Goodreads summary.)
I have to start this review by saying that I pity all those people who had to wait for Crown of Midnight. The wait would probably have killed me, I was so happy I could read it straight after Throne of Glass. I am petrified by the thought of having to wait for any books in this series. I need them all, now! I have so many feels when it comes to this book that it will be pretty hard to articulate them, but I will try my best!
Me during part 1 of this book!
This is only book two, people. Book two! And I am already completely obsessed to the point where it's not even healthy. I even looked up Chaolaena fan art. I never look up fan art. I am turning into Cath from Fangirl and Throne of Glass is my Simon Snow. I would seek professional help but I don't want it. I just want Throne of Glass. Honestly, how am I expected to wait for future books in this series. How is anyone expected to go through that kind of agonising wait? HOW!?! Sometimes sequels of books you absolutely love can be ridiculously disappointing. Maas delivered me a sequel that was even more amazing than the first and that hit me in all of the feels.
So, because I know you're all wondering, what is Celaena up to this time around? She's now King's Champion and it's her duty to follow the King's orders. She's basically got to go kill whoever he tells her to because that's how he rolls. Plus, she's an assassin so it's kind of her job anyway. But, not wanting to follow the orders of a man she despises, Celaena doesn't kill her targets. She warns them and then fakes their deaths. This was revealed to me in the blurb of my book so I was losing my sh*t before I even picked the book up. The King had warned her that he would basically kill Chaol and everyone she cares about if she didn't do what he asked. How dare she risk Chaol's life? Does she not know that he is the fictional love of my life? Clearly not. But, I'm getting distracted, the point is that she doesn't kill the targets. Instead she tries to help them escape whilst still convincing the King she's doing her job. Along the way she'll find out about rebel groups and so much happens that it will make your head spin. It's amazing. READ IT!
I looked back on my notes I made whilst reading this, to help me write my review, and laughed so hard. I have never seen so many OMGs, what the fucks or exclamation points in so few pages. So much happens in this book and it really does kick you in all the feels. The happy ones, the sad ones, the OMG ones and everything in between. It made me unbelievably happy only to then go and gut punch me and make me want to cry. And I loved every second of it. What is Maas doing to me?
Chaol and Celaena in this book were almost too much for me.
Almost
. It is just rather obvious to me that they are totally meant to be, I was just waiting for them to realise it. The sexual tension between these too is ridiculous, it felt like the anticipation for those two to finally kiss might actually end up killing me. Chaol is just so determined not to cross the line with Celaena and it just makes the whole thing so much more fun. In all honesty, the first half of this book was completely dominated by those two. It was all Chaol and Celaena to me in the first half, I didn't see the second half coming at all.
One thing I absolutely have to mention about this book is how much more hardcore Celaena is. In the first book she was all talk a lot of the time, but we didn't really get to see how good of an assassin she was. I always wanted to see for myself why she had earned the title of Adarlan's Assassin. She didn't completely live up to the name for me during Throne of Glass. But she certainly makes up for it in this one. A flashback to a time in the Endovier mines blew me away. I finally saw just how dangerous, powerful and bad-ass Celaena was. I was beyond impressed and I no longer questioned why people feared her.
The emotional numbness set in at the start of part 2.
As I have mentioned, this book has two parts. Part one was full of so many happy feels that I was floating on a giant cloud of happiness. I was wrapped up in the good ship Chaolaena, completely oblivious to what Maas was about to throw at me. Part two pretty much broke me, how I continued reading is beyond me. My feels were just not coping very well by that point. Maas had thrown so many plot twists at me that I was pretty sure what I was reading wasn't actually happening. I thought it was all a trick or something. Maas couldn't be doing this to me, could she?
This sums up most of my part 2 feels:
The first half of this book has all of the intrigue and mystery that you need. It keeps you guessing, shows you how hardcore Celaena is and is so good that you can't put the book down. It was everything I had hoped it would be and more, and it helped that it was all about the good ship Chaolaena to me. Maas delivered on everything and I had nothing to even complain about if I had wanted to.
Then came part 2.
It was gutting and devastating, it just about destroyed me. I am not quite sure how I continued reading it. A part of me didn't trust what I was reading. Maas is a genius when it comes to plot twists, so I naturally thought there was another plot twist around the corner that would piece my broken heart back together. The second half just had more twists then I could keep up with. I had a bit of a mini-meltdown when reading it, I think my boyfriend began to suspect I had lost my mind.
I had
.
I loved this book from beginning to end, but messing with my Chaolaena loses it 0.5. I also do this because 1. I will still give it 5/5 on Goodreads, as I round up 2. I know I need to save that 5, I will be needing it. These books are absolutely amazing and I can't express all the love that I have for them. All I can say is that Harry Potter will always be the ultimate series to me, nothing will ever touch it. But, Throne of Glass is the only series that has ever come close to it. I am obsessed! I can see myself at midnight releases for these books, breaking down the door to get the next book! I can't recommend this series enough. You need all the feels in your life!