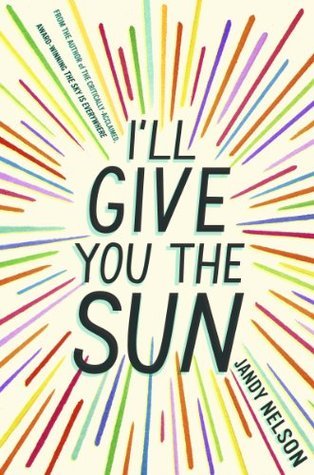 Title: I'll Give You The Sun
Author: Jandy Nelson
Publisher: Dial 
Buy This Book: Amazon
/ Book Depository
Jude and her twin brother, Noah, are incredibly close. At thirteen, isolated Noah draws constantly and is falling in love with the charismatic boy next door, while daredevil Jude cliff-dives and wears red-red lipstick and does the talking for both of them. But three years later, Jude and Noah are barely speaking. Something has happened to wreck the twins in different and dramatic ways . . . until Jude meets a cocky, broken, beautiful boy, as well as someone else—an even more unpredictable new force in her life. The early years are Noah's story to tell. The later years are Jude's. What the twins don't realize is that they each have only half the story, and if they could just find their way back to one another, they'd have a chance to remake their world. (Goodreads summary.)
This book has been so hard for me to review, I read it almost three weeks ago and haven't been able to review it since. It's a book that left me quite confused about how I felt about it. I found it very tough to get into, struggled with it at times and couldn't really connect to the characters. But I did enjoy it overall, I just wasn't in love with it. The book itself confused me, the story, the characters and just everything. It makes writing a review really difficult to me, which is probably why it's so short.
The writing in this was a lot to get used to, so were the characters. I had read Jandy Nelson's debut
The Sky is Everywhere
 back when it first came out, and I loved it. I definitely recognised Nelson's unique writing style and I did enjoy it, but it was harder to deal with in this. I have a feeling the actual book may contain pictures or drawings, but the eARC doesn't have them. I just get that impression, that might actually add a lot more to the story - like the pictures did in The Sky is Everywhere.