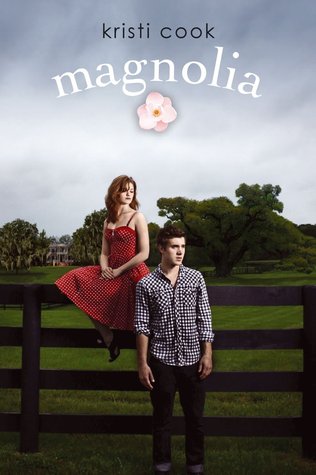 Title: Magnolia
Author: Kristi Cook
Publisher: Simon & Schuster
Buy This Book: Amazon
/ Book Depository
In Magnolia Branch, Mississippi, the Cafferty and Marsden families are southern royalty. Neighbors since the Civil War, the families have shared vacations, holidays, backyard barbecues, and the overwhelming desire to unite their two clans by marriage. So when a baby boy and girl were born to the families at the same time, the perfect opportunity seemed to have finally arrived.
Jemma Cafferty and Ryder Marsden have no intention of giving in to their parents' wishes. They're only seventeen, for goodness' sake, not to mention that one little problem: They hate each other! Jemma can't stand Ryder's nauseating golden-boy persona, and Ryder would like nothing better than to pretend stubborn Jemma doesn't exist.
But when a violent storm ravages Magnolia Branch, it unearths Jemma's and Ryder's true feelings for each other as the two discover that the line between love and hate may be thin enough to risk crossing over. (Goodreads summary.)
This review is going to be quite short because I don't really have that much to comment on about the book. It was such a quick read that it seemed it was over just as I'd begun it. Trust me, that isn't a bad thing, I just couldn't put it down and it was ridiculously easy to get lost in this cute story. I downloaded this one months and months ago now, the cover grabbed my attention and the synopsis sounded interesting so I was keen to give it a go. I was kinda worried that it would just end up being really disappointing, so excited to say that it wasn't.
This is basically the reverse Romeo and Juliet story, which I, rather stupidly, didn't even realise until it's pointed out to you at the very beginning. The chapters are even titled with Act I Scene I and so on, which I really liked. Instead of having two people from warring families falling in love, we have two people from two families that couldn't be closer, who hate each other despite the fact their parents would love nothing more than to see them together.
I seem to be quite the sucker for the characters that seemingly hate each other, but then end up wanting to rip each others clothes off. It's a storyline we all know so well, and we all know that it's rarely ever hate, it's just pent up sexual tension. I thought that worked well in this story, although you do kind of laugh a little at Jemma's complete blindness to Ryder's true feelings.
The synopsis really did make me believe that this story would concentrate a lot more on the violent storm that's coming. I kind of had the impression that the tornado would take up a large majority of the story, but that really isn't the case. I was actually really surprised when the tornado part of the story only really took up about 20% of the book. That disappointed me, if I am honest, because the two being trapped together during the storm was probably my favourite part of the whole book.
I really do have to comment on some aspects of the book that I either really didn't approve of or just freaked me out. The first was a comment that's made in the book about Jemma and Ryder being the first offspring of both families that could end up together, being the first boy and girl born close together. It made me so annoyed and definitely rubbed me the wrong way that it's suggesting the only relationship that can happen would be between a boy and girl. No, just no! I don't even know if that was intentional or not, but I was not a fan and that one comment really got to me.
Guns as gifts...
The other aspect that was just really strange to me was the gun culture in this book. I am sure it's true to the setting, but it still freaked me out. I detest the whole idea of a father gifting a thirteen year old child a gun as a present. They definitely won't be winning any parent of the year awards. Scenes where they'd go shooting together or she talks about her gun like it's her baby made me so uncomfortable. I am so glad I live in a country with decent gun control laws, where guns aren't considered
gifts
.
I had those two issues with it, but other than that this was a really easy book to read. It's cute, it's fluffy and it's full of cheese. I usually hate cheese, but it just worked in this. It's by no means an incredible, unique story but it's fun and easy to read. I knew what I was getting into when I picked it up and it didn't disappoint me, I was actually pleasantly surprised by this one.
I originally planned to give this 4/5, but I have had a little more time to think about it and think it's more worthy of a 3.5. It was a fun, cheesy, quick read and I got through it in one day, but it isn't an exceptionally unique story. If you're looking for a cutesy contemporary romance then you can't go wrong with this.
*I received a copy of this novel from the author/publisher/publicist via Edelweiss in exchange for a free and honest review and received no monetary compensation for this review.