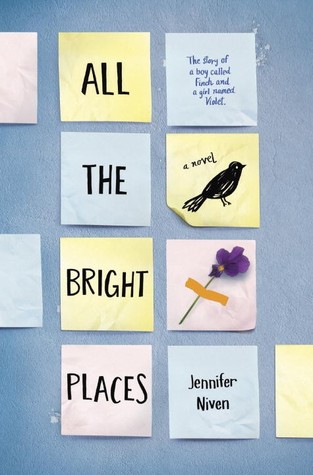 I finally got to post my review for
All the Bright Places by Jennifer Niven
, which is coming out on January 6th. It's one of my top reads of the year and I highly recommend it! Jennifer Niven is also so lovely and was really positive about the review. Even though I admit that I panicked and felt like I may have died when she said she'd read it.
I went out for the day with a friend this week, we went for a walk around London to some of our favourite places. I was in Foyles, near Oxford Circus, were I was spending far too long trying to decide what to buy - I wanted
everything
! I was reading out my wishlist to my friend when a woman interrupted and told me that White Cat is really good. After talking for a while she mentioned she wrote books and so I had to find out which ones. I was so pleased to find out it was Sarah Rees Brennan because her Lynburn Legacy has been on my wishlist for so long. She was kind enough to sign the two books in the series they had in the shop for me. She also offered to kill me off in a book because she liked my name - I would love that because I've never found my name in a book before.
Kami Glass loves someone she's never met . . . a boy she's talked to in her head ever since she was born. She wasn't silent about her imaginary friend during her childhood, and is thus a bit of an outsider in her sleepy English town of Sorry-in-the-Vale. Still, Kami hasn't suffered too much from not fitting in. She has a best friend, runs the school newspaper, and is only occasionally caught talking to herself. Her life is in order, just the way she likes it, despite the voice in her head.




But all that changes when the Lynburns return.




The Lynburn family has owned the spectacular and sinister manor that overlooks Sorry-in-the-Vale for centuries. The mysterious twin sisters who abandoned their ancestral home a generation ago are back, along with their teenage sons, Jared and Ash, one of whom is eerily familiar to Kami. Kami is not one to shy away from the unknown—in fact, she's determined to find answers for all the questions Sorry-in-the-Vale is suddenly posing. Who is responsible for the bloody deeds in the depths of the woods? What is her own mother hiding? And now that her imaginary friend has become a real boy, does she still love him? Does she hate him? Can she trust him?
I'm very excited to try this series for the first time. I'd only put off buying it because I could never find the matching book one cover for the series.
Caggie's life was perfect.

But when a moment of recklessness on the Manhattan rooftops is misunderstood by her friends and family, Caggie knows that her life has changed forever. Nothing makes sense anymore, and no one seems to understand.

Then she meets the dark and enigmatic Astor - the only person who understands what she's going through. But as he seduces Caggie further away from her old life and everyone she once cared about, she starts to wonder if she'll ever find her way back. Because once you fall, there's no going back.
'It was years before a Visionist came to the City of Hope. How could I have fathomed that her presence in our small, remote sanctuary - as unforeseen to her as to anyone - would change everything?' Massachusetts, 1842. Fifteen-year-old Polly Kimball sets fire to her family farm, killing her abusive father. With his fiery ghost at her heels, Polly and her young brother seek refuge in a local Shaker community - the City of Hope. Polly has much to hide from this mysterious society of believers, with the local fire inspector on her trail and the ever-present daemons from her past. But when they hail her a 'Visionist', the first their community has known, she is subject to overwhelming scrutiny. Despite being fiercely protected by a young Shaker sister named Charity, a girl who has never known the outside world yet will stake her very soul on Polly's purity, Polly finds herself in danger from forces both sides of the City's walls. And in a world where faith and fear coexist, safety has a price…
Surfing is sixteen-year-old Iris's world, and when the ultra-talented Zeke walks into her life, it soon becomes her passion.

Over one amazing summer, as she is drawn into his sphere, she experiences love, new friendships, but also loss, with an intensity she never dreamed of.

But is Zeke all he seems? What hides beneath his glamorous and mysterious past? When Iris decides to try for her own surfing success, just as her ex-boyfriend comes back into her life, she will test her talent, and her feelings for Zeke, to the limit…
The year is 1945. Claire Randall, a former combat nurse, is just back from the war and reunited with her husband on a second honeymoon when she walks through a standing stone in one of the ancient circles that dot the British Isles. Suddenly she is a Sassenach—an "outlander"—in a Scotland torn by war and raiding border clans in the year of Our Lord . . . 1743.

Hurled back in time by forces she cannot understand, Claire is catapulted into the intrigues of lairds and spies that may threaten her life, and shatter her heart. For here James Fraser, a gallant young Scots warrior, shows her a love so absolute that Claire becomes a woman torn between fidelity and desire—and between two vastly different men in two irreconcilable lives.
I was lucky enough to receive this awesome package from Bloomsbury, who are just too lovely. It not only came with a wonderful Harry Potter poster, some bookish postcards, chocolate and hot chocolate mix. But there was also books. Two of which I am lucky enough to already own as one I had signed at YALC and the other Bloomsbury had sent me to review before. But the most important was that I now have A Court of Thorns and Roses in my possession! *dies of happiness*
A thrillingly reimagined fairy tale from the truly magical combination of author Neil Gaiman and illustrator Chris Riddell – weaving together a sort-of Snow White and an almost Sleeping Beauty with a thread of dark magic, which will hold readers spellbound from start to finish.

On the eve of her wedding, a young queen sets out to rescue a princess from an enchantment. She casts aside her fine wedding clothes, takes her chain mail and her sword and follows her brave dwarf retainers into the tunnels under the mountain towards the sleeping kingdom. This queen will decide her own future – and the princess who needs rescuing is not quite what she seems. Twisting together the familiar and the new, this perfectly delicious, captivating and darkly funny tale shows its creators at the peak of their talents.
When Apple's mother returns after eleven years away, Apple feels whole again. But just like the stormy Christmas Eve when she left, her mother's homecoming is bittersweet. It's only when Apple meets someone more lost than she is that she begins to see things as they really are.

A story about sad endings.

A story about happy beginnings.

A story to make you realise who is special.