Believe it or not, my whole life doesn't completely revolve around book. Yes, most of my expendable income goes on books. Yes, most of my free time goes on either reading books or blogging about books. And, yes, I work in a library and am surrounded by books all day. But sometimes, I take a break from my bookworm ways and do something that doesn't involve books - it's a real struggle, but I do it!
One of the things that I turn to is NETFLIX! Netflix is amazing, especially after a long day at work. When I come home at night, sometimes I'm too stressed out to relax and read, but too tired to take the time to blog. This is when it's perfect to collapse onto my bed and binge watch a show on Netflix. I'm sure I am not alone in this, I assume a lot of my fellow book bloggers do this too. Today, I thought I would share the shows that I have recently binge watched, or am currently obsessed with! Then hopefully you guys can recommend me some shows too.
I only discovered the US Office last year and I think I might have rewatched it at least 15 times since. I AM OBSESSED! It's absolutely hilarious and my favourite programme to binge watch. I watch it when I want something to laugh at, when I want to relax. I watch it in the background when I'm blogging, or when I'm reading. The characters are absolutely fantastic and I think Jim and Pam are my ultimate ship! If you have yet to discover The Office, go and do it! It's amazing!!!! BUT... You must get through the first 6 episodes of season one, it really takes off in season 2.
If you have no clue what the show is about, it follows the employees of Dunder Mifflin, a paper company. It's filmed as though there is a camera crew documenting their work lives, and the cameras follow them at work, whilst also having interviews with them. It has a fantastic mix of characters and I highly recommend it. I still aww at every single Jim and Pam moment, they are the ship of all ships.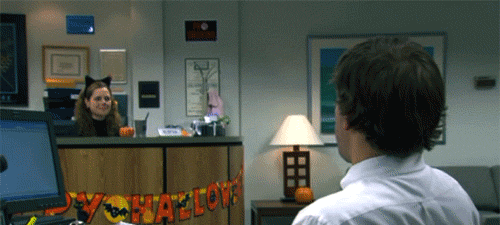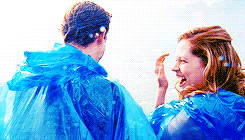 I don't just love Jim and Pam though. Dwight is another favourite character of mine, and his and Jim's relationship is perfect in this. Those two together are comedy gold! I also love Michael. When I finish the final episode, I miss the characters too much and just go and start it all over again. This show is addictive!
Favourite episodes:
The Dundies
- because drunk Pam is
hilarious
.
The Job
- because of that ending, the face says it all!
Casino Night
- for all my Jim and Pam feels.
The Dinner Party
.
The Injury
- concussed Dwight is the best!
Now this is a show I have only discovered this year and it quickly became a new favourite show of mine. It's another one that is just absolutely hilarious and was not what I was expecting at all. The first season follows a study group of adults at a community college, and is just following them doing normal things. But you hit the end of season one and you start getting all of these themed episodes. The themed episodes are some of my absolute favourites, especially the paintball episodes. If you're looking for a show to make you laugh, then this is the perfect show for you.
Troy and Abed together are absolutely hilarious. But the show is really stolen by the Dean, who is so funny in this. He just gets better with every season!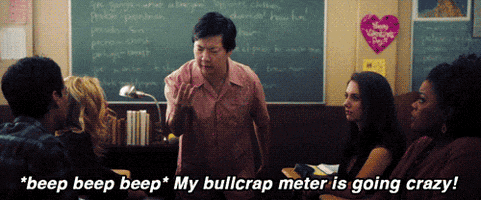 Favourite episodes:
Modern Warfare/ A Fistfull of Paintballs / For a Few Paintballs More
- all the paintball episodes were
amazing
.
Remedial Chaos Theory
- where we see 6 different scenarios based on who went to get a pizza. I think this is
the
funniest episode.
Basic Intergluteal Numismatics
- the Asscrack Bandit episode, even has a theme song. I laugh just thinking about it!
Digital Estate Planning
- where they take part in a video game in order to fight for an inheritance.
I am so happy I ended up watching this. I almost skipped past it because the adverts for it were ridiculous. It made it look so unfunny, I wasn't even tempted to try it. But Ellie Kemper played Erin in The Office, and I knew she had great comedic timing. So curiousity got the best of me one night, and I binge watched the whole show. Then put it straight back on again, but got the boyfriend in to watch it with me. I am now desperate for season 2 of this!!! Females are strong as hell!!! This series follows Kimmy Schmidt, a woman who has finally got her freedom after being kidnapped and held by a man for fifteen years. It's a serious start to what is a hilarious show. Ellie Kemper is amazing as Kimmy Schmidt, and I can't wait to get more of this series.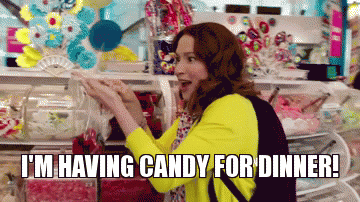 I'm sticking with all my light-hearted comedy shows right now. As I haven't had time to really sit and concentrate on 40+ minute drama episodes. I did recently binge watch the whole of Once Upon a Time and love that, can't wait for the next season.
Any other Netflix bingers out there? What have you been watching lately? What would you recommend?