Top Ten Tuesday is a weekly meme hosted at
The Broke & The Bookish
.
This weeks topic is:
Movie Adaptations I Am Desperate To See
Mockingjay Part 2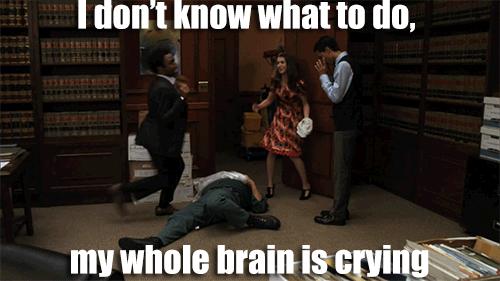 Do I need to explain?!?!? I need to see it. I need to see if they still kill off a certain male character. I have the slightest hope that they won't, but then the trailer basically reveals a lot of the film and you see a scene which is basically just after that characters death. But... there is always hope. There is no hope! OH NOOOO... WHY!?!?! I need the emotional torture that is this movie in my life already.
The 5th Wave
I quite enjoyed the book, but I didn't love it as much as I had hoped It has a really creepy love interest that I still find disturbing to think about. It totally threw me out of the story when I was reading and stopped me loving it. I do really like the look of the trailer though and really hope this movie is a great adaptation. I have all my fingers and toes crossed.
The Jungle Book
I want to watch this. And then I don't want to watch this. All at once. I can't decide. The trailer is just so creepy, it's like it is destroying actually destroying my childhood. It just looks really creepy, dark and scary. So much more so than I was expecting. But I am still super excited.
Fantastic Beasts & Where To Find Them
Harry Potter is my favourite series of all time.... OF COURSE I AM SEEING THIS. I am desperately eager to see this. I hope it is amazing, otherwise it will depress me far too much.
Beauty and the Beast
I don't actually know when the live action version is coming out, but I am beyond excited to watch it. I am supremely happy with the choice of Emma Watson for Belle. I really think she will do a fantastic job!
All the Bright Places
I am so excited for this to actually start getting filmed. It has been in development for far too long and they haven't even got the cast fully figured out. I need it to hurry up and move in to production! I don't think this is coming out till 2017, but I will be going to see it the day it comes out.
A Series of Unfortunate Events
I actually really loved the movie adaptations to this film, and was really sad when they didn't continue making them. The news that there is going to be a TV show based on the books made me so happy. I can't wait for this to start showing!
His Dark Materials
YES!!! THE BBC ARE ADAPTING THIS! YES!!! YES!!! YES!!!
Can you tell that I am excited for this? Well, I AM. The His Dark Materials series is one of my all time favourites. When they made it into a film, I don't think I had ever been so excited to see an adaptation. And then it turned out to be one of the worst films I have ever seen. Not even just the worst adaptation, just a truly awful film. I am putting all my trust in the BBC that they will do this series justice and make this the awesome show it was destined to be. Oh, Lyra & Pantalaimon, I can't wait to see you on the little screen.
I can't celebrate my blogoversary without holding a giveaway for all of my amazing followers. One winner will win up to
£30 worth of books
from Book Depository. This will be open internationally, as long as Book Depository ships to your country.
a Rafflecopter giveaway
Weekly Recap: I Recap a Whole Month & Haul ALL THE BOOKS
I Need These Debut Authors Books
Weekly Recap: Disney Halloween