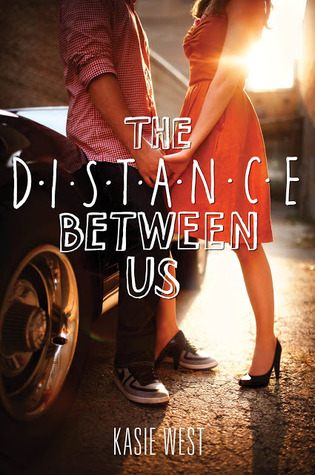 Title: The Distance Between Us
Author: Kasie West
Publisher: HarperTeen
Buy This Book: Amazon
/ Book Depository
Seventeen-year-old Caymen Meyers studies the rich like her own personal science experiment, and after years of observation she's pretty sure they're only good for one thing—spending money on useless stuff, like the porcelain dolls in her mother's shop.
So when Xander Spence walks into the store to pick up a doll for his grandmother, it only takes one glance for Caymen to figure out he's oozing rich. Despite his charming ways and that he's one of the first people who actually gets her, she's smart enough to know his interest won't last. Because if there's one thing she's learned from her mother's warnings, it's that the rich have a short attention span. But Xander keeps coming around, despite her best efforts to scare him off. And much to her dismay, she's beginning to enjoy his company.
She knows her mom can't find out—she wouldn't approve. She'd much rather Caymen hang out with the local rocker who hasn't been raised by money. But just when Xander's attention and loyalty are about to convince Caymen that being rich isn't a character flaw, she finds out that money is a much bigger part of their relationship than she'd ever realized. And that Xander's not the only one she should've been worried about. (Goodreads summary.)
When it comes to contemporary romance it can be a little hit and miss with me, it takes something special to really make me love it. I am not a huge fan of the cringe-inducing romance, all that talk of loving someone down to your very soul just makes me want to gag. So I need a romance that's still swoon worthy but not over the top, it needs to feel real. So I went into The Distance Between Us with a little trepidation and hope that all the amazing reviews I had seen were right.
Caymen has grown up being warned about the rich families of the beach town she lives in. Her own father came from a rich family and abandoned her mother as soon as she got pregnant, his family paid her off and made her sign papers agreeing that she would never go after child support. Since then her mother has worked hard every day to make the doll shop she bought with the money work, but it's a daily struggle. Caymen has watched her mother struggle and harbours a resentment for the rich people in town who seem to have it so easy. When Xander walks into her shop one day she takes one look at him and knows he's just another rich guy who thinks he's better than everyone else. But Xander takes an interest in Caymen and, even though she doesn't want him to, keeps showing up day after day to spend time with her. Inevitably, over time she begins to realise that she is enjoying his company and the time she spends with him.
I'm just going to say it, this book was so damn cute it had me smiling the whole time I was reading it. When Xander walked into her shop and beckoned her over with his hand I was raging right along with Caymen. Who does that? Rude people, that's who. So, instantly I was as against Xander as she was. But, just like Caymen, I quickly came to realise that there was a lot more to Xander than meets the eye. Okay, fine, I fell hard for that beautiful, hilarious, entirely fictional character. I wanted to reach into the book and steal him like some creepy stalker girl.
Reading this book has made me want to read every Kasie West book I own, she's a fantastic writer. She writes brilliant characters, it reminded me of the wonderful My Life Next Door and how well Huntley Fitzpatrick wrote all of the characters. There is not one character in this book that isn't developed, who doesn't have an individual voice and personality, even the most minor of characters. I fell in love with this book, with Xander, with Caymen, with the story and the banter and everything! Caymen's best friend Skye was a favourite secondary character of mine, she was really funny and I liked her personality a lot and how she worked off of Caymen.
The romance and scenes between Xander and Caymen are very well done, they never seem over the top or over done. You feel the growing feelings, the chemistry and the build up that's happening between them. West plays it absolutely perfectly and it feels completely authentic. It doesn't play out like a lot of the instalove stories we see and for once there isn't a pointless love triangle. It's just two people falling for each other with a tiny bit of drama added in. The humour in the book was perfect for me, Xander and Caymen have such great banter. The dry sense of humour of Caymen works so well for me and I loved the sarcasm and just everything.
The end was very abrupt to me, it felt a little rushed nearer the end where as the rest of the book goes at a nice easy pace. I'm not sure what I was expecting at the end, maybe I just wanted it wrapped up really nicely with a bow on top for good measure. I'm not completely sure, but the end I got just wasn't completely satisfying to me. That might be on purpose though because it leaves it open for a follow up book but, I don't think it's necessary, this book was perfect all on it's own.
An utterly perfect contemporary romance. Kasie West knows how to write characters, not one character in this feels underdeveloped or pointless. The banter between the characters had me laughing out loud. I read this in one sitting because I just couldn't put it down. The conclusion wasn't as nicely wrapped up as I would have liked, but it was still a satisfying enough end to the book. I would love to have more of these characters but this book was perfect all on its own. Now excuse me, I need to go read my eARC of On The Fence immediately!