Title: Trial by Fire (The World Waker Trilogy #1)
Author: Josephine Angelini
Publisher: Macmillan Children's Books
Buy This Book: Amazon
/ Book Depository
Love burns. Worlds collide. Magic reigns.
This world is trying to kill Lily Proctor. Her life-threatening allergies keep her from enjoying many of the experiences that other teenagers take for granted...which is why she is determined to enjoy her first (and perhaps only) high-school party. But Lily's life never goes according to plan, and after a humiliating incident in front of half her graduating class Lily wishes she could just disappear.
Suddenly Lily is in a different Salem - one overrun with horrifying creatures and ruled by powerful women called Crucibles. Strongest and cruellest of all the Crucibles is Lillian . . . Lily's identical other self in this alternate universe. This new version of her world is terrifyingly sensual, and Lily is soon overwhelmed by new experiences.
Lily realizes that what makes her weak at home is exactly what makes her extraordinary in New Salem. It also puts her life in danger. Thrown into a world she doesn't understand, Lily is torn between responsibilities she can't hope to shoulder alone, and a love she never expected.
But how can Lily be the saviour of this world when she is literally her own worst enemy? (Goodreads sumary.)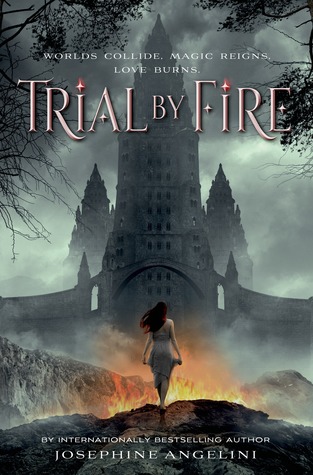 US cover
When I finally received my copy.
Trial by Fire first caught my eye when I saw the US cover, before I even realised who wrote it or had read the blurb. It's such an eye-catching design and it works well to show you what the story is about. I was intrigued already, and then I saw that it was the new book in a planned trilogy and it was written by Josephine Angelini. That was the moment that I knew that I just had to read it. Her Goddess series is really great and I find her books so easy to read. I no longer wanted to read this book, I needed to read this book. Thankfully Macmillan are amazing and were willing to let me review the book, and I can't even begin to thank them.
The story doesn't take too long to get into the action, in fact it feels like we get to it almost straight away. We get a little introduction to Lily Proctor and her life in Salem, she's struggling with allergies and she's fallen for her best friend Tristan. An embarrassing incident at a party leaves her wanting to disappear, but she never expects to suddenly appear in a different Salem to her own. A Salem that is ruled by powerful women called Crucibles, a Salem where giant monsters are a constant threat to it's people. This all happens very quickly, it's quite jarring but it works with the story. We spend enough time with Lily at the start to get to know her character a bit before jumping into the action, but it leaves you with a lot to discover.
The best kind!!!
Jumping right into the other Salem is a lot to get used to, you are left feeling a little lost. That's the whole point though, you feel just as lost and confused as Lily does. I felt like I was experiencing everything that she was, which made me connect to her a lot quicker. Lily is a character that surprised me, at first I was certain I wouldn't like her and then suddenly I just couldn't get enough of her. She starts out with a very high and mighty attitude, she's a vegan and even owns a shirt that says
'I'm vegan and yes, that does make me better than you'
. From that moment on I was sure that Lily was going to be a character that got on my nerves and one I couldn't like at all. But there's so much to find out about Lily and the type of person she is and she completely redeems herself in my eyes. I loved how strong she was and how she dealt with situations that would have me running in the opposite direction. She's a very strong and determined person, she sticks up for what she believes in and I admired that about her.
Let's be honest, no YA series would be complete without a love interest and, frankly, I'd have been really disappointed if this book didn't have one. I'm quite the sucker for a romance. Rowan was a character that I liked instantly, even though he was ridiculously mean to Lily. I don't even know why I had this instant like for him, I just did. I think it's because I knew there was going to be a lot more to him, I was excited to get to know him and find out about his background.
What impressed me so much about this book is that it doesn't rely on the romance, or make it a big part of the story. It's actually barely a romance in this, it's more about the characters getting to know each other and just like each other in general. There's no insta-love and it sets up the idea of a romance in the next book, I feel that's when that will be given more time. I liked that romance didn't become a huge part of the story, it concentrated on the fantasy elements and I much preferred that. The way the relationship progresses so slowly in this, it reminded me so much of Aria and Perry in Under the Never Sky, which is one of my all time favourite romances in a YA series and one I think is done ridiculously well. I am beyond excited to see how this relationship evolves over the next two books, I feel a new ship being added to my armada.
I like to tell you about the things I liked about a book, as well as the things I didn't. I am so happy to say that Trial by Fire didn't give me too much to grumble about. Maybe I would have liked to learn more about the world, but I never felt like it was lacking in that department. It took me a little while to get into this, but then I just became completely addicted to the story and couldn't put the book down. It was moving at a fast pace, it was hard for me to put this book down because I needed to continue to see what was going to happen. My only true complaint would be the fact it has a cliffhanger ending that has me desperate to get my hands on book two. Seriously, someone invent a time machine so I can go forward in time and read it. Pwetty please?
This one jumped right into the action, which made it a little hard for me to get into. But once I was, I could not get enough of this book and the story. I was so happy to find another fantasy YA that's got me hooked and is making me so eager for the next book. I was impressed by the fact a romance doesn't suddenly become the main storyline, it's always in the background and mostly just the characters getting to know one another. I want to know more about the world, more about the characters and I can't wait to see the romance evolve over the next two books. This feels like a series that is just going to get better, and I am already dying to read book two. I highly recommend to all, but definitely to those looking for a new fantasy series to get into.
As I now have a finished copy of the book, I am doing a giveaway for my ARC copy. Because of the cost of shipping it, the giveaway is UK only.
*I received a copy of this novel from Macmillan Children's Books in exchange for a free and honest review and received no monetary compensation for this review.