Friday Finds is something that was started over on
ShouldBeReading
and Stacking the Shelves over at
TyngaReviews
, I am in love with all of these as I love finding other blogs to follow and books to read through these! So check them all out and see what you find, Stacking the Shelves has a lot of participants as well which is great. This is basically a way for me to show what books I have received, borrowed or bought each week. All book covers and their summary come from back of book or Goodreads.
Christmas Haul Part 1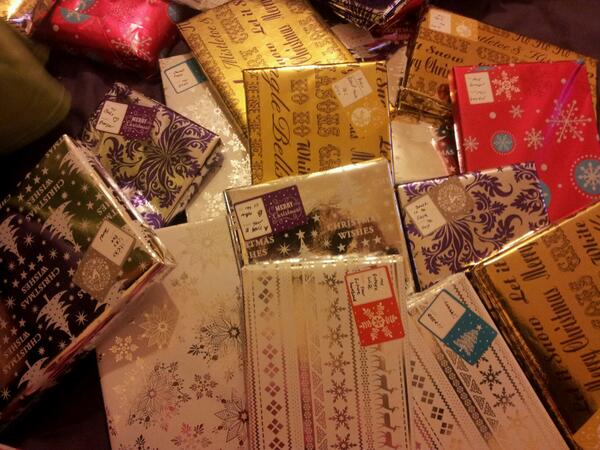 Christmas was
AMAZING
, especially as far as books were concerned. I was kind of spoilt rotten, and it proved that my boyfriend does actually listen to me. He was also amazing enough to tell my parents books I wanted and they got me some too. I got 25 books in total, and I apparently have 3 pre-ordered but I am not allowed to know what they are until they arrive! Seeing as I have so many, I think I may split them up over two or three weeks.
Not to mention that I received a signed book plate and bookmarks from the amazing Melissa Landers, author of the 5/5 star Alienated! It was sent all the way from Cincinnati, Ohio to me here in London and I was so excited to receive it. It's going straight into my hardback copy when it is released!
My wonderful eldest sister got me a Harry Potter bracelet, which I adore. It has the Deathly Hallows sign on it, as well as a golden snitch and two owls. Plus it came with a death mark tattoo, which will come in really handy next Halloween, because I really want to go as Bellatrix Lestrange!
Christmas Books
So pretty!
Some summers are just destined to be pretty.
When each summer begins, Belly leaves her school life behind and escapes to Cousins Beach, the place she has spent every summer of her life. Not only does the beach house mean home away from home, but her favorite people are there: Susannah, her mother's best friend, and her sons, Conrad and Jeremiah. Belly has been chasing Conrad for as long as she can remember, and more than anything, she hopes this summer will be different. Despite distractions from a new guy named Cam and lingering looks from Conrad's brother, Jeremiah, Belly's heart belongs to Conrad. Will he offer his to her? Will this be the summer that changes everything?
I am so excited to finally own this series myself, I adore this whole series!
Regret was for people with nothing to defend, people who had no water.
Lynn knows every threat to her pond: drought, a snowless winter, coyotes, and, most importantly, people looking for a drink. She makes sure anyone who comes near the pond leaves thirsty, or doesn't leave at all.
Confident in her own abilities, Lynn has no use for the world beyond the nearby fields and forest. Having a life means dedicating it to survival, and the constant work of gathering wood and water. Having a pond requires the fortitude to protect it, something Mother taught her well during their quiet hours on the rooftop, rifles in hand.
But wisps of smoke on the horizon mean one thing: strangers. The mysterious footprints by the pond, nighttime threats, and gunshots make it all too clear Lynn has exactly what they want, and they won't stop until they get it….
With evocative, spare language and incredible drama, danger, and romance, debut author Mindy McGinnis depicts one girl's journey in a barren world not so different than our own.
Finally!
It's been six weeks since angels of the apocalypse descended to demolish the modern world. Street gangs rule the day while fear and superstition rule the night. When warrior angels fly away with a helpless little girl, her seventeen-year-old sister Penryn will do anything to get her back.
Anything, including making a deal with an enemy angel.
Raffe is a warrior who lies broken and wingless on the street. After eons of fighting his own battles, he finds himself being rescued from a desperate situation by a half-starved teenage girl.
Traveling through a dark and twisted Northern California, they have only each other to rely on for survival. Together, they journey toward the angels' stronghold in San Francisco where she'll risk everything to rescue her sister and he'll put himself at the mercy of his greatest enemies for the chance to be made whole again.
Juliette hasn't touched anyone in exactly 264 days.
The last time she did, it was an accident, but The Reestablishment locked her up for murder. No one knows why Juliette's touch is fatal. As long as she doesn't hurt anyone else, no one really cares. The world is too busy crumbling to pieces to pay attention to a 17-year-old girl. Diseases are destroying the population, food is hard to find, birds don't fly anymore, and the clouds are the wrong color.
The Reestablishment said their way was the only way to fix things, so they threw Juliette in a cell. Now so many people are dead that the survivors are whispering war – and The Reestablishment has changed its mind. Maybe Juliette is more than a tortured soul stuffed into a poisonous body. Maybe she's exactly what they need right now.
Juliette has to make a choice: Be a weapon. Or be a warrior.
So unbelievably excited for this one!
Imagine a place where the dead rest on shelves like books.
Each body has a story to tell, a life seen in pictures that only Librarians can read. The dead are called Histories, and the vast realm in which they rest is the Archive.
Da first brought Mackenzie Bishop here four years ago, when she was twelve years old, frightened but determined to prove herself. Now Da is dead, and Mac has grown into what he once was, a ruthless Keeper, tasked with stopping often—violent Histories from waking up and getting out. Because of her job, she lies to the people she loves, and she knows fear for what it is: a useful tool for staying alive.
Being a Keeper isn't just dangerous—it's a constant reminder of those Mac has lost. Da's death was hard enough, but now her little brother is gone too. Mac starts to wonder about the boundary between living and dying, sleeping and waking. In the Archive, the dead must never be disturbed. And yet, someone is deliberately altering Histories, erasing essential chapters. Unless Mac can piece together what remains, the Archive itself might crumble and fall.
Under the bubbling hot springs and geysers of Yellowstone National Park is a supervolcano. Most people don't know it's there. The caldera is so large that it can only be seen from a plane or satellite. It just could be overdue for an eruption, which would change the landscape and climate of our planet.
For Alex, being left alone for the weekend means having the freedom to play computer games and hang out with his friends without hassle from his mother. Then the Yellowstone supervolcano erupts, plunging his hometown into a nightmare of darkness, ash, and violence. Alex begins a harrowing trek to seach for his family and finds help in Darla, a travel partner he meets along the way. Together they must find the strength and skills to survive and outlast an epic disaster.
Knowing the outcome doesn't always make a choice easier . . .
Addison Coleman's life is one big "What if?" As a Searcher, whenever Addie is faced with a choice, she can look into the future and see both outcomes. It's the ultimate insurance plan against disaster. Or so she thought. When Addie's parents ambush her with the news of their divorce, she has to pick who she wants to live with—her father, who is leaving the paranormal compound to live among the "Norms," or her mother, who is staying in the life Addie has always known. Addie loves her life just as it is, so her answer should be easy. One Search six weeks into the future proves it's not.
In one potential future, Addie is adjusting to life outside the Compound as the new girl in a Norm high school where she meets Trevor, a cute, sensitive artist who understands her. In the other path, Addie is being pursued by the hottest guy in school—but she never wanted to be a quarterback's girlfriend. When Addie's father is asked to consult on a murder in the Compound, she's unwittingly drawn into a dangerous game that threatens everything she holds dear. With love and loss in both lives, it all comes down to which reality she's willing to live through . . . and who she can't live without.
Have heard so many wonderful things about this one!
Angelfall Giveaway
My boyfriend bought me Angelfall and World After for Christmas, but had a problem with World After when it arrived. It has the tiniest dent in the back cover from where it has obviously got knocked around the box in transit. He got in touch with TBD, because he knows I am so particular when it comes to books, and they sent a replacement. Now I have two copies, and looking at the 'damaged' one, it's barely noticeable and I wouldn't have been that bothered. But seeing as I only need one copy of it, I am going to give that one away. I will also throw in a paperback copy of Angelfall to the winner as well. So just remember World After has tiny bit of damage to the back of it. As I will be sending by post, this giveaway is UK only.
The tiny damage!
a Rafflecopter giveaway
200 Bloglovin Followers Giveaway
I have reached a big milestone for me, which is 200 followers on Bloglovin. To think just a few short months ago I had none at all, well it kind of blows my mind. Thank you for all your support, your comments and recommendations. I have found so many amazing blogs, bloggers and books since starting my blog. It's probably the best thing that I have done all year!
To celebrate I want to do a little giveaway. So I am offering one winner the chance to win £20 worth of books from Book Depository. That way I can do an international giveaway and you can pick the books you want.
a Rafflecopter giveaway