I'm back!
Yes, I have finally returned to the world of blogging. After two weeks away, it finally felt time to come back. I'd really love to say that those two weeks were wonderfully relaxing. I'd love to say I got a ton of scheduling done, finally tackled those 14 reviews waiting to be written, took a big chunk out of my TBR and replied to comments/visited my favourite blogs. I'd really love to say all of that, but I'd be totally lying. And, come on, would I ever lie to you? Don't answer that!
The two weeks were mostly filled with work, sickness or dealing with other things that just caused a ton of stress. Taking the time away from the blog was worth it though, I don't know how I could have dealt with all of that and the blog. But I am back and hopefully it will be staying that way for a while. I thought what better way to return then with a discussion. I love a good discussion!
Co-blogging is something that I am sure a lot of bloggers have thought about at one point or another. Whether you're just weighing up the pros and cons, or if you're seriously considering making the move yourself. Some people even started their blogs with a co-blogger, but a lot of us were all on our lonesome. I remember getting the idea to start the blog in my head one day at work, and I could think of nothing else. I came home that night and signed up to blogger and started posting straight away. I didn't read any blogger tips, I didn't think about scheduling or when and how often I would post. I just jumped straight in and didn't look back. And I've really loved every moment of it. But that doesn't mean there aren't times where I wonder if it would be easier if I wasn't doing it alone.
There can be a lot of times when blogging can get a little overwhelming. Like when your comments sit there for over a week, piling up and getting to a number that makes your head hurt just thinking about it. When you can't seem to write a review no matter how long you sit at your laptop, staring at the screen and hoping even a little inspiration comes to you. Or when you're trying to get the hang of a piece of coding or design something and you're getting nowhere. Those are the times when it feels like it would be amazing to have a co-blogger to help you through it all.
To co-blog or not to co-blog? That is the question. The answer...
This isn't really a discussion about whether you should go it solo or bring a co-blogger along for the ride. I would be the worst person to try to give advice about that. I still have absolutely no idea myself. Having a co-blogger would probably make my life so much easier, and yet I've still never felt able to commit to the idea of it. That's clearly because I am insane and enjoy making life harder for myself.
I think part of it is the fact that your blog can start to feel like your baby. You started it all on your own and have helped it grow and been there from day one. It can seem kind of scary to introduce someone else to that and let them have a part in it. If I'm being completely honest with myself, I know the main reason I have never made the change is that I am a complete control freak... I'm far too OCD about things. I think Elsa said it best:
Frozen is right about so many things! And that has to be the biggest reason why I've continued to do this alone, even when I've been struggling. I have total control and freedom, I can post what I like and when I like, how often I like. It's just me, I don't need to worry about anyone else or what they're are doing. That can be overwhelming at times, but it's very freeing as well.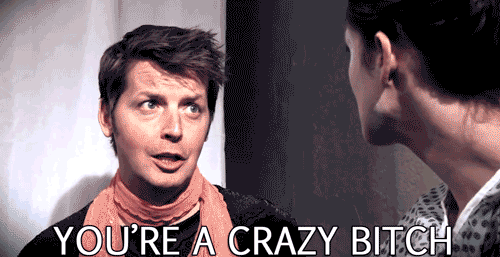 I know, okay, I'm sorry!
I wasn't kidding earlier when I said that I am a control freak, I like to have control of most situations. I hate feeling out of control, that can be quite scary for me. I don't know how well I could cope with having to share blogging responsibilities with other people. But, if I'm honest, I really can't imagine some poor person having to deal with me as their co-blogger. I imagine myself as the worst of all co-bloggers, like someone's nightmare idea of a co-blogger. But maybe that's just because I know how completely anal I can get over things.
Does this discussion even have a point? Who knows. I wrote the whole thing and even I don't know. I think I'm mainly still turning the idea over in my own head and I just wanted to see what everyone else thought about co-blogging.
Could you give up some of your control? Would you love to have someone else along for the ride? Are you happy going solo, just doing your own thing? Or could you not imagine life without your co-blogger?