This is basically me running away from all my blog responsibilities. Or maybe just the twelve reviews I still need to write. I sat at my laptop for six hours last night, trying to write my reviews and it started so well:
But after six hours of basically just staring at my screen, my mind blank and zero written on the page. It just ended like this: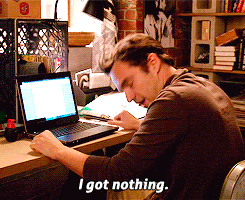 It was honestly like I'd forgotten what words are. It's been like this for a couple of weeks now, so I think it's about time to admit I need some time away. The problem has nothing to do with the blog, it's more to do with what's going on in my life outside of the blog. It's a lot of stress right now and I don't think I can handle all of that and the blog.
But, have no fear, it's not going to be for too long. I'm just going to take a week or two to deal with everything else in my life. It would help if I could have a week or two away from work so I could really get on top of everything, but such is life.
Hopefully I will see you all in a week or two and I will be feeling a lot better. And some of those reviews might have gone and written themselves!