Recently, ever since seeing Frozen, I've been listening to a bunch of Disney songs via mixes on Youtube. And I found this amazing 79 song one, that included some of my favourite non-Disney animation movies. It got me thinking about which ones were my favourites, the ones I absolutely loved and the ones I feel aren't appreciated enough. I'm a huge Disney fan, I own almost every classic, but I have so many non-Disney animation movies that I absolutely love. I'm twenty-two, but I still love watching all my favourite kids films!
I wanted to give them a shout out on my lovely blog! Plus, who doesn't love kids movies? I realised I have quite a lot, so I will do this in two parts and put part two up next week. I'd love to hear about your favourites, and if you love any of the ones I've picked.
I absolutely loved Anastasia as a kid, and it's one I can still watch and enjoy now. I love the character of Anya, she's sarcastic and funny and my kind of female lead. Plus, her and Dimitri bounce off each other so well. And Bartok is just such a cute and awesome character! If you didn't see this as a kid, you missed out! The songs are brilliant too.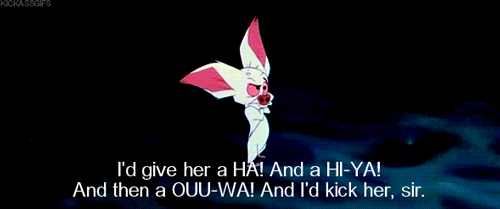 The Magic Sword: Quest for Camelot is definitely an all time favourite. If you are a lover of kids films, you
have
to see this if you haven't yet. It's got great characters, amazing songs and is absolutely hilarious. I grew up watching this constantly with my best friend and it's an all time favourite film of mine. I adore Kayley and Garrett, and Devon & Cornwell provide a lot of laughs. Brilliant kids film.
Most kids films have there funny moments, but this movie still makes me laugh from beginning to end. Miguel and Tulio are two of the greatest characters from a kids movie, ever! With a soundtrack by Elton John, which is amazing, and a ridiculously large amount of laughs, this really is a perfect kids film that adults will enjoy too!
I remember getting this movie, I came across it by chance in a Woolworth's when I was probably about eight. I was out shopping with my parents and saw the cover and fell in love with it. Luckily, my parents bought me it and I've loved it ever since. A brilliant movie that is definitely not appreciated enough. I only know one other person who watched it as a kid, my best friend Kevin, and that's only because I showed it to him. I hope some of you out there have seen this amazing film.
I really feel that Spirit: Stallion of the Cimarron is a really under appreciated movie. I think it's absolutely stunning. The story is really beautiful, it's very well done and the soundtrack, by Bryan Adams, is amazing. I remember seeing this with my mum at the cinema, we were the only people in there and I couldn't take my eyes away from the screen. If you've never seen it, I definitely recommend it; it's a really beautiful movie.
Who doesn't love The Swan Princess? This movie is a must! A great story that actually challenged the love at first sight concept you see in most kids films. Derek & Odette have been betrothed since they were children, but have never wanted to marry. When they meet as adults, and Odette has grown into a beautiful woman, Derek finally decides he wants to marry her, to which Odette says:
Prince Derek
: What? You're all I ever wanted. You're beautiful!
Odette
: Thank you. But what else?
Odette
: Is beauty all that matters to you?
Utter fail on his part, I know!
FernGully is awesome for so many reasons. The main one is Batty, I LOVED Robin Williams and his movies as a kid and he has voiced some amazing characters - Batty & Genie are both so brilliant. Batty is hilarious and the Batty rap is probably one of my favourite parts of this film. It's a very 'Don't destroy the planet' movie, with a message that's really obvious but it's such an incredible film. This tells the story of Crysta, a forest fairy, who accidentally shrinks Zak, a human, and together go on adventure and attempt to save the forest.
I hadn't seen this in years, but they finally released it on DVD here and I had to buy it. This tells the story of a group of woodland creatures who's home is being invaded by pesky humans. When one of them becomes sick, they must go on adventure together to track down the one plant that can cure her.
I remember getting this on video as kid after a doctor's appointment. I'd had to get an injection and my mum bought me this as a treat afterwards because I didn't cry or anything, go childhood me! I just fell in love with this film. It seemed so different from every other kids film I'd seen. The animation seems so different, the songs are really amazing and it's just a really brilliant film, not just a brilliant kids film. This is the story of Moses, and even though I am not and have never been even a little bit religious, I love the whole thing. Zipporah is also a really kick-ass female lead, she doesn't take any crap and who doesn't love that in a person.
I am pretty certain that all nineties babies have seen this movie. If you haven't, what is wrong with your parents? All children should see this movie, it's beautiful and it's touching. My childhood has officially ruined the day I found out the little girl who voiced Ducky was murdered as a child! RUINED! Such a brilliant story though, I love Little Foot and Ducky! If we hold on together, I know our dreams will never die.
So there you have it, that's
PART ONE
. I'll post Part 2 next Monday, and that will have the other ten.
So are any of these favourites of yours, or what were your favourite non-Disney animation movies?
This Weeks Reviews:
Impostor
by Susanne Winnacker: Review
4/5