Five Friday Favourites is a weekly event hosted by
Book Badger
, where once a week, a five favourites subject is posted and everyone is welcome to join in. You can find out more about Five Friday Favourites and the future subjects
here
.
I love a good villain! I think it is very important for a book to have a convincing and scary villain, but so much so that you kind of love them. I love this weeks topic, and I think of sooooo many villains straight away... and yes, most of them are from Harry Potter.
There can be no other villain at the top of my list! For me, Voldemort will always be the ultimate villain. He was scary to read, but so much so that you love him. He seemed super psychotic, especially since he is a grown man who spends all of his time trying to kill a young boy. Reading the books, my heart would speed up whenever Harry encountered Voldemort. He craved power like nobody else and he didn't care what he had to do to get it. It made you genuinely scared that he might win in the end. He was unpredictable and just the best villain I have ever encountered in fiction.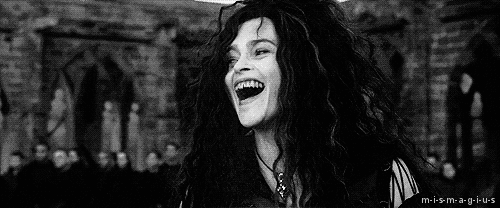 I have realised that I love a villain that I hate but love in equal measure. Bellatrix is definitely one of those characters. She is so mad and crazy, and I love her for it. But she was so evil and I hated everything she did in the books. She killed off one of my favourite characters, you just can't forgive that. I think her portrayal by Helena Bonham Carter was absolutely superb.
There are few characters that have as great a story as the one that J.K.Rowling provided Snape. He was a character who was so easy to hate, but so easy to question as well. You never quite knew exactly what to make of him, whether he was as bad as you thought. If Dumbledore trusted him, could he really be as bad as we thought. He was such a brilliantly complex character, I loved his storyline and I love him as a character.
I
hated
this woman! She was just so despicable and it's hard to think of a character that I have hated more. She actually brought out genuine fear in me the first time I read the Northern Lights books. Her plans with daemons just made me so sad, especially since one of the things I crave most in the world is a daemon of my own. Such a brilliant series, such a brilliant villain. The movie was hideous, so I won't use Nicole Kidman for it. That movie doesn't deserve to be associated with the book series.
I think the movie did such a good job with the character of President Snow. They gave him a lot of air time and really showed just how powerful he is. He is a brilliant villain; the right amount of cold and calculating and unpredictability. You can completely understand why Katniss is so afraid of him, he possesses so much power.
And my
giveaway
to celebrate reaching 850 Bloglovin' followers!
Exile by Kevin Emerson: 2.5/5 Review