Five Friday Favourites is a weekly event hosted by
Book Badger
, where once a week, a five favourites subject is posted and everyone is welcome to join in. You can find out more about Five Friday Favourites and the future subjects
here
.
I hate today's topic, absolutely hate it. That's mainly because I have to post yummy pictures of yummy food that I just want to eat. But I can't. I'm being healthy at the moment, which basically means staying away from all of my favourite foods! *cries*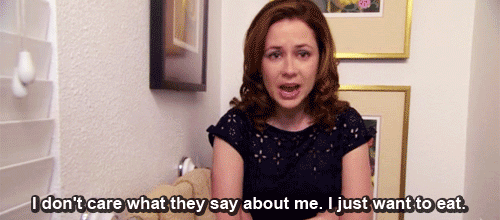 I am addicted to Nandos. From the peri peri chips to the yummy chicken to the to die for Nando's sauce! I actually can't get enough of this place and it's my go to place to eat out at. My boyfriend absolutely loves it too, we're both a fan of the spice and the chicken. YUM!
Who doesn't love pizza? I don't want to meet a human being who doesn't love pizza because there has to be something wrong with them. When I went to Rome I basically just ate pizza for breakfast, lunch and dinner. I am a really fussy eater and I HATE cooked vegetables of any kind, so my choices are always margherita, meat fast or pepperoni - YUM!
This makes the list mainly because I have the worst sore throat at the minute, all I crave right now is a Cornetto or a Magnum! I may break my being healthy rule right now just to go by one. If I am getting ice cream then I am always going to go for chocolate. Chocolate is the best flavour ice cream there is: FACT!
I adore scrambled eggs on toast! I hadn't even tried it until I was about 18 and my boyfriend made it for me. He converted me and now I think it's absolutely gorgeous. He definitely makes the greatest scrambled eggs I have tasted so far.
Steak
Another food my boyfriend converted me too. I am a fussy eater now, but before we got together I was definitely 10x worse! Medium rare steak with chips... YUM YUM YUM! I have made myself so hungry right now just thinking about it. It also needs to have a nice amount of salt put on top of it.
These are the first foods that popped into my head. I have been eating healthier for two weeks now, and plan to continue for the next few months. I am beyond hungry for all these foods right now, especially a yummy, bloody steak. I think I'd kill someone for a steak.



To enter to win a Kindle Fire HDX go here.
I'm currently celebrating July with a giveaway! I am giving 6 winners the chance to win a book of their choice, worth up to £10, from Book Depository. For all the details you can go to the
original post
.