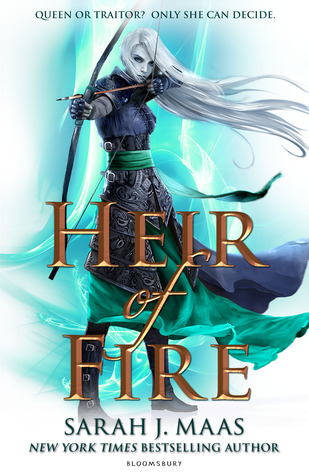 Title: Heir of Fire (Throne of Glass #3)
Author: Sarah J. Maas
Publisher: Bloomsbury
Buy This Book: Amazon
/ Book Depository
Lost and broken, Celaena Sardothien's only thought is to avenge the savage death of her dearest friend: as the King of Adarlan's Assassin, she is bound to serve this tyrant, but he will pay for what he did. Any hope Celaena has of destroying the king lies in answers to be found in Wendlyn. Sacrificing his future, Chaol, the Captain of the King's Guard, has sent Celaena there to protect her, but her darkest demons lay in that same place. If she can overcome them, she will be Adarlan's biggest threat – and his own toughest enemy.
While Celaena learns of her true destiny, and the eyes of Erilea are on Wendlyn, a brutal and beastly force is preparing to take to the skies. Will Celaena find the strength not only to win her own battles, but to fight a war that could pit her loyalties to her own people against those she has grown to love? (Goodreads summary.)
I have put off writing this review for quite some time now. I could pretend it's because I wanted to schedule it for closer to the release date, but I'd be lying. I knew that once the review was written up then it would really be over. I would have officially read and reviewed every book of Throne of Glass that's available to me. Now I will have to wait for more. THE HORROR! This series is one that leaves you craving more and, no matter how many books you devour, it never feels like enough. I want to warn you all that if you haven't read books one and two then you should read no further, you don't want those spoiled for you.
I finished Crown of Midnight and was left pretty devastated. Okay, let's be honest, completely devastated. I loved Throne of Glass but had found it very predictable at times. I wasn't prepared for all the twists and turns and surprises that Crown of Midnight had for me. I didn't see Nehemia's death coming, not at all. Maas had me fooled for quite a few chapters, I honestly believed her death had been faked and she would suddenly appear later on. I didn't see the Aelin reveal coming either, I think if I had paid more attention to the mentions of her then I think I would have. But what truly devastated me about this book was the fact I had too see Chaol and Celaena finally come together, only for it to all go horribly wrong. What was Maas doing to me?
How I feel about Chaolaena right now!
I didn't really know what to expect from Heir of Fire, I knew that Maas could throw anything at me. If you have read my reviews of Throne of Glass and Crown of Midnight then you will be completely aware of the fact that I am a die hard shipper of Chaolaena; it's my favourite thing about the whole series. I just wanted to see those two be reunited in this and my shipper heart to be mended. That wasn't too much to ask for, was it?
Was it?!?
At the end of Crown of Midnight Chaol had just sent Celaena off to Wendlyn, as a way to protect her from the King, before realising that she is Aelin Galathynius and rightful Queen of Terrasen. The book takes us in a lot of different directions and follows a lot of different characters. We see how Celaena does in Wendlyn, training with her aunts heir, Rowan and trying to learn how to use her powers. We also follow Chaol and Dorian back at the palace, Chaol is trying to find ways to break the King's power and Dorian is struggling to deal with his magic. Then we are introduced to Mannon Blackbeak, who's heir to the Blackbeak Witch Clan, and what her role will be in this story.
This is quite a long book, at over 500 pages, and there is quite a lot going on. I can't get enough of Maas's world, characters and stories, but even I felt like it was a bit too long. I think the issue was that there was
so
much going on, so many different characters to follow and stories to keep up with. I know Mannon will be important in books to come, but I didn't care. Every time we had her story I just wanted to skip ahead and get back to Celaena and the others.
I admit to being totally blinded by my love of Chaol and Celaena together. I missed them and it kind of made the book less enjoyable for me. It also made Rowan pretty much impossible to like, mainly because he's whole 'I hate you and then suddenly I am going to like you' storyline was just too similar to the one we have already seen happen with Chaol and Celaena. I also felt like he might be about to ruin my ship, I just couldn't have it. I COULDN'T! He was just doing nothing for me in this story, even though I felt like I was supposed to like him. I really felt like Maas wrote him to be likeable, but I just couldn't get behind him at all.
No matter how many pages or books I read, I will never have enough. This book felt like too much and not enough all at the same time. It adds so much to the story, introduces so much to the story, completely frustrated me, absolutely wowed me and I loved it. I can't get enough of this series, these characters, the romance, everything. I had my issues with it but it's as well written as the other books in this series. Despite my issues Maas didn't disappoint me. This is a six book series so I understand why certain aspects of the story are being dragged out a bit.
I won't deny the fact that Maas is a genius when it comes to writing a romance between two characters. Chaol and Celaena, even Sam and Celaena were both utterly perfect in my eyes. But, in Heir of Fire, the new romance just fell flat for me. We're introduced to a healer, Sorscha, who is helping Dorian. Their romance just didn't work too well for me, it's because it didn't feel totally real for me. I'd kind of had enough of new romances being introduced, I didn't need or want any more. Sorscha always just felt like a plot device to me, not an actual character, and nothing more, which is essentially all she is.
I feel like my review seems like I am hating on this book, I am not at all. I really enjoyed it, I am head over heels in love with this series. I think I'm just mad that I can't immediately go pick up the next book. Maas just hooks you and leaves you craving more, but I don't have more. I have to
wait
. I know I was expecting everything to work out between Celaena and Chaol, but with three books to go it just wasn't going to happen. Mannon is a character that I know is going to become very important, I do like her but I think she's going to grow on me a lot more over the course of the next couple of books. I am so excited to see where this story is going.
4/5 Butterflies
I am sure I am not the only person who struggled to review this book. I honestly can't put into words how I feel about it, I have tried. I finished the book ages ago and have spent so many hours trying to get this review scheduled. There's so much going on in this book, so much to comment on and yet I can't get a coherent thought written down. I enjoyed it, I really did but I had my issues with it. Yes, Chaolaena is my number one thing about this series. And, yes, I am just bitter they are separated in this book. But, if I am completely honest, whilst it was a brilliant book, a great addition to the series, it's my least favourite of all the books so far. This book isn't going to disappoint fans of the series, it really isn't. It is going to leave you dying to get your hands on the next book. It's going to make you want to kidnap Sarah J. Maas and make her write you the last three books so you can read them straight away. Okay, just me then.
*I received a copy of this novel from the author/publisher/publicist via Netgalley in exchange for a free and honest review and received no monetary compensation for this review.