I really wanted to do the bookshelf tag, mainly so I could take pictures of my bookshelves. I keep reorganising the two in my bedroom because I never seem completely happy with them. I was planning to do this tag, even though I hadn't been tagged by anyone. But then Amanda from Book Badger tagged me and gave me an even bigger reason to do it. So, YAY!
This set up probably won't last too long. The only thing that will definitely stay the same are the top two shelves. I have fitted over 600 books on these two bookshelves, which is accomplished by having a row of pretties at the front. Then you have three columns of books hidden behind them. I am a master at shelf organising, it's the librarian in me!
Confession: I have another one in my spare room, but that's mainly got all of my adult fiction on it. You'd never know by looking at the books I've reviewed on the blog, but I own a lot of adult fiction.
1. Is there a book that you really want to read but haven't because you know it'll make you cry?
This is a tough one because it kind of makes me want to say
all of them
. I never know when a book is going to turn me into a complete sobbing wreck. Sometimes the ones I expect to make me cry don't (TFIOS) and then ones that I never expected to make me cry do (My Life Next Door).
Looking at my shelves though, I am going to have to go with The Spectacular Now. I don't know much about that book or what it's about, even though I own two copies. But I'm nervous it's going to make me cry. I don't know why I think that, I just do. I blame the title. I mean, why is it only spectacular now? What's coming later!?!
2. Pick one book that helped introduce you to a new genre.
Easy. The Hunger Games probably wasn't my first ever taste of dystopian fiction but it's the first one that was good enough to make an impression. After that I was completely hooked. I hunted down as many dystopians as I could get my hands on and read them all.
3. Find a book that you want to reread.
I have so many. Harry Potter for definite, it's been far too long now. I have plans to do it but not for a little while now. I also want to get to some old favourites that I haven't read in years - His Dark Materials series, The Sight series, Noughts & Crosses series. I plan to make more time next year for rereads and requesting less ARCs.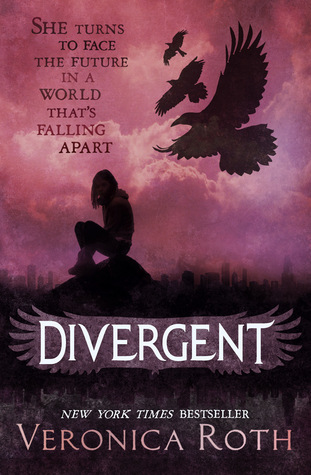 4. Is there a book series you read but wish you hadn't?
I assume this means I had to have read the entire series. That's really easy: Divergent. Mainly because it's really disheatening to read and love the first book in a series, only for the series to get worse with each subsequent book. And the final book be one of the worst things you have ever read. I was kind of glad at the ending of that book. By the end I kind of felt they deserved it for all the whining I had to read through.
5. If your house were burning down and all your family and pets were safe, which book would you go back in and save?
Can I say all of them?!? No, okay.
Both my Harry Potter sets because they're gorgeous and my favourites.
6. Is there one book on your shelf that brings back fond memories?
I don't want to keep saying Harry Potter but it would definitely be Harry Potter. Especially the final book. It brings back memories of walking down at midnight with my best friend Kevin and my friend Adam to get it. Me and Kevin were meeting Adam at the end of a street at about 11.30pm and it was pitch black. We hid behind the fence and jumped out of him and scared the crap out of him. I also remember getting the book and reading it till the sun came up, with tears streaming down my face. J.K. Rowling did break my heart about a million times but I still think of fond memories every time I look at that book.
7. Find a book that has inspired you the most.
I have no idea. All of them? I feel like every book I read seems to inspire me in some way. Even the ones I hate. They inspire me to never write anything that bad, haha.
8. Do you have any autographed books?
I am most fond of my Noughts and Crosses signed books! I have met Malorie Blackman three times now. The first was at the BBC, my first invite to an event because of the blog and it was amazing.
9. Find the book that you've owned the longest?
A lot of my childhood books are in the loft at my parents house. So it would probably be my original copy of Harry Potter which I've had for about 15 years now.
10. Is there a book by an author you never imagined you'd read and enjoy?
I'm going to go with Colleen Hoover. Id never heard of her but, way before I started blogging, I was looking for new reads online and kept seeing Slammed pop up. I didn't really know if it was for me, it wasn't what I usually read and I was a little nervous. I ended up loving it and have read 5 of her books now and really enjoyed them all. I now have her on my auto-buy list.
I'm supposed to tag people but I get really confused about who has done this and who hasn't. So I tag anyone and everyone reading this who feels like doing it. You really should, it's a lot of fun!
In my
blogoversary post
I posted my giveaway to celebrate 1 year of blogging. I am giving one winner the chance to win up to £40 worth of books of their choice from Book Depository. I am also giving one runner up a book of their choice, worth up to £10 from Book Depository.
a Rafflecopter giveaway
My Blogoversary Celebration and Giveaway
Day 21 by Kass Morgan (The 100 #2): 3.5/5 Review
Not a Drop to Drink by Mindy McGinnis: 4.5/5 Review
Five Friday Favourites: Favourite Book Scenes
My Weekly Book Haul: 27/09/2014
The Young Elites by Marie Lu: 3/5 Review