This is a weekly meme hosted by
shouldbereading
, which is where you can post your musings of the week. This can be describing a reading habit, what books you've bought, what books you want, what you're reading or any rant you can think of book related.
I'm rather sick right now with one of those colds that make you look, feel and act like one of the walking dead. I'm pretty much like this right now: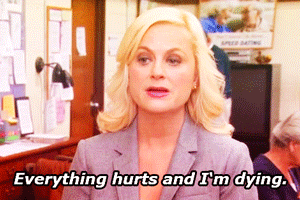 This means that I am home under my blankets with a book in my hand whenever I don't have to go to work. So today I shall share a reading habit, that I'm sure a lot of you have as well. I love to find the time to lay back and relax in a bath with a good book. Although it's made so much less relaxing by the fact I try to keep my books in pristine condition for as long as physically possible. So it's me laying back, my arms up in the air so the book is far away from water and my hands like a vice on it. And don't even get me started on how ridiculous I look when I read my Kindle in the bath, arms outstretched so the Kindle isn't over the water! I feel like I'm coming off a little crazy right now!
I reviewed:
And I
posted
my
W... W... W...
, my weekly
book
haul and my first ever
Follow & Feature
post.
I am currently reading
Forbidden
by Tabitha Suzuma. I wanted to redo the review I did for this, as it was one of the first I wrote for the blog and I did not say everything I wished to say about this. So I am redoing it but in doing so I made myself want to read it again. So for the first time in what feels like forever, I actually stopped reading a book in order to read something else. The review will be up tomorrow most likely, it will definitely be 5 stars so check back!
This week I have decided not to tell another crazy library story; I'm worried I may put you off going in one ever again. I will instead tell you one of the few things I don't like about my job. That is people who can't use computers coming in to use the computers. I do not wish to add up the hours of my life wasted on this.
I get people coming up to me constantly and informing me that the computers are broken. When you enquire further they say that it's just not working. My usual response is to ask if they have switched it on, they say they have and that it is most definitely broken. I then walk all the way to the I.T suite, press the on button and as if by some strange Harry Potter magic I have fixed the broken computer. I wish to start a general computer use rule, if you don't know what a power button is you are obviously too stupid to use them. Why these people don't sign up to any of our free computer courses, I will never know.
I need to say a massive thank you to the amazing people who took the time to follow my blog. I have just realised how many people that is but I like to thank people so here goes nothing:
Challenging Reads
,
Because Reading Is Better Than Real Life
,
Brigitte Woah The Bookaholic
,
Feed Your Fiction Addiction
,
So Many Books So Little Time
,
Greg's Book Haven
,
A Great Read
,
My Nook Books N More
,
Buried Under Romance
,
Meredith & Jennifer's Musings
,
Feminist Fairy Tale Reviews
,
Mad Hatter Reads
,
The Ultimate Bookworm
,
Moy Drook Reads
,
Between My Lines
,
Such A Novel Idea
,
Paradise of Pages
,
Ramblings Of A Book Junkie
,
The World For The Reading
,
Abbbz And Bookz
,
Natflix and Books
,
YA: Escape From Reality
,
Lite-rate-ture
,
Studio Reads
,
Dees Reads
&
Tressa's Wishful Endings
. Thank you all!
Leave a link to your own MM and I will check them out!