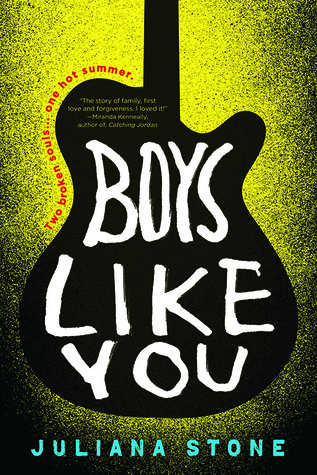 Title: Boys Like You
Author: Juliana Stone
Publisher: Sourcebooks
Buy This Book: Amazon
/ Book Depository
One mistake.
And everything changes.
For Monroe Blackwell, one small mistake has torn her family apart –leaving her empty and broken. There's a hole in her heart that nothing can fill. That no one can fill. And a summer in Louisiana with her Grandma isn't going to change that…
Nathan Everets knows heartache first-hand when a car accident leaves his best friend in a coma. And it's his fault. He should be the one lying in the hospital. The one who will never play guitar again. He doesn't deserve forgiveness, and a court-appointed job at the Blackwell B&B isn't going to change that…
Captivating and hopeful, this achingly poignant novel brings together two lost souls struggling with grief and guilt – looking for acceptance, so they can find forgiveness.
I keep notes now when I read a book, it makes reviewing it easier and helps me remember specific parts I liked, disliked or want to quote. Now, on average, most books will have 3-4 pages filled with notes, but Boys Like You just got one. I can't decide if that's because not very much happens in it or because I just didn't really have many feelings about what happened in it. It was an okay read, but I guess it just didn't make me really invest in the story.
Monroe has gone to spend the summer with her Grandmother in Louisiana, and it's clear that she is dealing with a death that she feels somehow responsible for. But we don't know the who, why, where, when or what as far as that event is concerned. I liked that mystery surrounding it and the wanting to discover and find out more about Monroe and what she had done. I thought her pain felt realistic and how she handled it, for the most part, seemed realistic too.
This book is told in both Monore's and Nathan's point of view, which I think was really important for this story. This allows you to get inside Nathan's head and see exactly how he feels about what he did and how much responsibility he feels for driving drunk, resulting in his best friend being in the hospital in a coma. Their romance kind of falls into the insta-love territory but when you take into account what they are both going through it kind of makes sense why they instantly connect. They both seem to latch on to eachother because they recognise their own pain and suffering in the other, and I guess when you feel all alone in that it must be nice to find someone you think might actually understand what you are going through.
This book got a little preachy nearer the end, and I really, really, really hate being preached too. It just went a little too much into the God aspect when it came to what they went through. It was basically saying that if anything bad happens in your life then that's on you, not God... but, wait, if anything good happens in your life then it's God doing it for you. I mean, come on, please don't get me started on that logic and don't preach to me, don't need it and don't want it. Clearly, me and religion in books just don't get on.
My other main issue with the book was the romance. It wasn't bad or anything, it was just a bit too much for me. This is so sickly sweet and romantic, especially nearer the end, and I know it will have so many people gushing and swooning. I'm just not one of those people, I'm not. I come from a family that go out of their way to buy funny birthday cards for each other instead of the gushy, gag-inducing ones. So, technically, that isn't a problem with the book it's more a problem with me. I can't handle when a romance gets too heavy in books and the whole
I love you down to my soul
crap. I actually cringe when I read that stuff, but I know a lot of people will really love that aspect of it.
I was going to give it a three, which would be that I liked that book but had some problems with it. But, ultimately, this didn't leave much of an impression on me. I almost forgot to review it and only remembered I'd read it after seeing my notes in my book. It was an okay read, but it just wasn't what I thought it was going to be. I thought it would make me feel something for the characters and their situations, but I didn't. I thought I might get wrapped up in the romance aspect, but I didn't. It just wasn't what I was expecting at all. I don't like being preached at and I don't like when a romance makes me cringe. I feel it's one that just wasn't for me, but others may absolutely love.
*I received a copy of this novel from the author/publisher/publicist via Netgalley in exchange for a free and honest review and received no monetary compensation for this review.