Five Friday Favourites is a weekly event hosted by
Book Badger
, where once a week, a five favourites subject is posted and everyone is welcome to join in. You can find out more about Five Friday Favourites and the future subjects
here
.
I like this topic because I can kind of take the term hero and make it what I want. If you google the definition of hero then you get this:
noun
plural noun: heroes
1.

a person, typically a man, who is admired for their courage,

outstanding achievements, or noble qualities.
I am just going to completely ignore that part about it typically being a man. But I will still be doing those characters that I admired for their courage, achievements and the things they did that made me want to absolutely applaud them. And, terribly, we have yet another week where I have had to stop myself from just posting 5 entries that are all Harry Potter characters!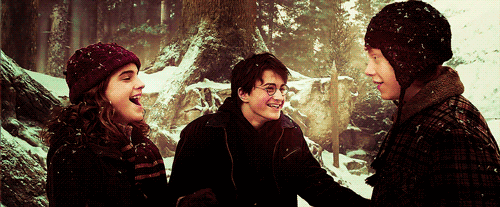 I feel like these three need no explanation really, they all deserve their own spot on this list. I have grouped them together so that I have room to showcase other characters though. Harry, Ron & Hermione are the ultimate heroes for me, in every way! They defeated Voldermort people, VOLDERMORT! What is more bad ass or deserving of being classed as a hero than that? Nothing. Harry, for a long time I believe, knew that his fight with old Mr V was probably going to end in his death and he went for it anyway. He was willing to die to save his friends, the people he loved and the Wizarding and Muggle worlds in general. And Ron and Hermione were with him every step of the way. Without each other they never would have been able to do it. I have far too much love for these three, far too much love!
This character is one of those utterly infuriating ones, with her complete lack of emotion and inability to choose between two boys. But, she has to make the list because she made me so angry but I loved her as a hero. She just completely, 100% does not want to be the hero and that's why I love her as one. She just wants to go into the Hunger Games and do her best to survive. She wants to go home and be with her family and deal with the Capitol and the Hunger Games every year. She doesn't want to be the peoples Mockingjay, she doesn't want to start a revolution and be the symbol of hope for others. She just wants to survive and I admired and loved that about her. It's great to see a character step up to the plate and want to overturn an oppressive government or take down an evil, psychotic wizard BUT it's actually refreshing and more realistic to see a character who doesn't want to do any of it because it's absolutely terrifying. She also won her spot on this list for wanting to make sure Peeta got out of the second Hunger Games alive, no matter if it meant her dying.
I will always have a place in my heart for Lyra! She started out as such a young child in Northern Lights and grows so much over the course of that trilogy. Northern Lights could be hard going at first because of her age and maturity level but it's worth getting into because it's an amazing and beautiful series. I just fell so in love with her world and her as a character. I haven't reread this series in a long time and it's something I am very eager to do. I need to see if I still love it as much as I use to and if Lyra is still the feisty, strong hero that I remember.
Persephone Hadley
I am clearly using this as an opportunity to spread more love for my favourite books. But I just love Sephy as a character and she is a hero to me. If you're looking for a character who shows courage then you can't go wrong with Sephy, she's one of the bravest characters I have come across. The things she goes through and survives and the strength she shows, it makes her very worthy of a spot on this list.
Most Harry Potter Characters
I wasn't joking when I said I wanted to just do 5 slots for HP! I mean, come on, it's full of heroes. And all different kinds of heroes as well. I could probably list about 50 characters that could make this list but I won't because that would take forever. Hagrid, Dobby, Fred, George, Tonks, Lupin, Sirius and on and on it goes! These characters are just the best creations ever and I will never grow tired of reading about them.
So, who are you favourite book heroes? Any obsessive HP fans who'd have just listed HP characters? Do you agree or disagree with any of my choices?
One chance to win a Kindle Fire HDX, to enter go here.
You can also enter my June giveaway, where
3 winners
have the chance to win any
2
of the books I have reviewed in 2014 so far. For full details go
here
.