Yes, I did start singing the song from The King & I because of the above words, that's just who I am.
Rachel
was kind enough to tag me for the 20 things tag. So now you shall get to find out a few things about me that you might not have known, and probably didn't really care to know. But it's happening, so get ready!
1. How tall are you?
Could you define tall for me? I'm going to be honest here, the word tall has never been used to describe me, unless it was in comparison to a really small child. I am 5ft and 0.1 of an inch short. And yes, I do think that 0.1 of an inch is important enough to mention. It means buying jeans is a nightmare, I can't reach the top or middle shelves of my kitchen cabinets and I get asked for ID for almost everything.
2. Do you have a hidden talent? If so, what?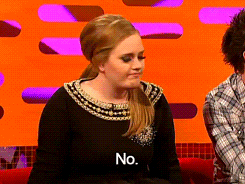 Yes, it's so hidden that I am yet to find it! I can play Twinkle Twinkle Little Star on the guitar, but my guitar playing abilities is limited to that. I'm incredibly talented in the art of pen losing, I don't think there is anyone better at it in the world. I've also got quite a talent for making my monthly pay suddenly disappear within a week of receiving it. And then all of a sudden all these books appear in my life, but I am sure that's just a coincidence.
3. What's your biggest blogging related pet-peeve?
Is this my pet peeve in regards to my blogging and blog, or other blogs. I'm not sure. I'd have to agree with Rachel on this one, it's when I have scheduled a post whilst it was half finished, been too busy to complete it and then it's gone live half-finished. But that's more like a pet-peeve about my own stupidity, so not quite sure that counts.
4. What's your biggest non-blogging related pet-peeve?
I have far too many of them. My biggest one is rude people, especially when I'm at work. I work in a library, but not the nice, quiet library you're probably thinking of. It's a busy library in London and some of the people I come across make me want to hurt them... a lot. The worst one is a guy that comes in a lot who basically snaps his fingers at you, never says please or thank you, and is just a really rude person. So biggest pet-peeve will go to arseholes who don't say please or thank you.
5. What's your favourite song?
Is it even possible to pick a favourite song? I have been listening to a lot of Ed Sheeran lately, who I absolutely love. And I'm incredibly excited for Imagine Dragons new album. But there's no way I could pick a favourite song.
6. What's your favourite Etsy shop?
Etsy is a rather new discovery for me, I've only recently started using it and it's terrible for me. So far I have only purchased one thing, all from the same Etsy shop. And that's bookmarks from
Lillytales
. I've ordered 8 bookmarks I think, which is disgusting but I can't stop myself.
7. What's your favourite way to spend your free time when you're alone?
I feel like this is some kind of weird trick question. We all know the answer would be reading, and if I'm not reading then I'm blogging. Those are the two things I love doing the most. But if I've got the house to myself and I'm not doing either of those things then you'd probably find me watching a TV show or film. Or sleeping.
8. What's your favourite junk food?
My metabolism must be really good because I should probably ridiculously fat if you take into account how much junk food I eat. If I had to pick one thing then I would pick pizza. Hmmmm pizza. I WANT PIZZA NOW!
9. Do you have pets?
I have two wonderful kitties and I love them both. Sephy, real name Persephone (named for the Noughts & Crosses character), is the eldest cat who's almost 10. Lilo is the youngest and is still just a kitten, she's just reached six months.
10. What are your favourite fiction and non-fiction books?
11. What are your favourite beauty products?
I am obsessed with bath bombs from Lush. I LOVE THEM! Not only do they smell amazing and make my skin feel super smooth, they also mean I can bath in any colour water I want. Although I've learnt not to get the glittery ones, because you will be finding that stuff around the house for weeks afterwards.
12. When were you last embarrassed?
I feel like I should have so many options to choose from, but I can't think of one. Maybe I have blocked all of the embarrassing incidents out of my brain. It's for the best. I probably should have been embarrassed that when I went to the tour with my sisters we were the only people dressed in robes. But I wasn't because I had fun and dressing up like a witch made me happy.
13. If you could drink one beverage for the rest of your life, what would it be?
If I could... not if I had to. That makes me feel like I get a choice in this and I'd honestly not want to be limited to one beverage for the rest of my life, you'd get sick of it. But the smartest option would be water because it's the healthiest option. But then I'd miss orange juice and hot chocolate far too much.
14. What's your favourite movie?

These favourite questions are killing me. How can you pick a favourite movie, as in just one. I did a post about some of mine, but even then I did about 50 films and still missed out ones I love. That posts
here
.
15. What were you in high school? Jock, geek, cheerleader etc.
None of them. I don't know. I'm from the UK so those mean nothing to me. Sports isn't a big deal in schools here so 'jocks' aren't a thing, which means we also have no need for cheerleaders either.
16. If you could live anywhere in the world, where would it be?
I'm like Dean when it comes to planes.
I'm actually not very fond of travelling, I panic far too much about every aspect of it - booking, packing, flying, etc. I absolutely hate flying, something that's got worse in the last few years or so. That fear probably quadrupled this year when a plane just disappeared, followed closely by two other major plane disasters. NO THANK YOU!
If I could magically transport myself, my entire family and all our stuff somewhere else then possibly. Somewhere less mental than what the rest of the world seems to be becoming lately. Somewhere that probably doesn't exist.
17. PC or Mac?
PC
18. Last romantic gesture from a crush/date/boyfriend?
My boyfriend is so good at doing small romantic gestures every day that I think I take them for advantage. Like the fact he got up this morning and went and got me breakfast and brought it to me in bed. He also bought me over 50 books for Christmas, which is the most romantic gesture a guy can do for a total bookworm. A million points for him.
19. Favourite celeb?
Another one where I don't really have a number one favourite celeb, although there are a lot that I love. Today I'm going to pick Dylan O'Brien, because he plays Stiles and Stiles makes Teen Wolf awesome. Try to imagine watching Teen Wolf with no Stiles.
20. Which bloggers do you secretly want to be friends with?
All of them.
Here comes the part where I am supposed to tag people, but I am so behind with this one that I'm sure everyone else has probably already been tagged. Here's your chance if you haven't though.