Title: Talon
Author: Julie Kagawa
Publisher: Harlequin Teen
Buy this book: Amazon
/ Book Depository
Long ago, dragons were hunted to near extinction by the Order of St. George, a legendary society of dragon slayers. Hiding in human form and growing their numbers in secret, the dragons of Talon have become strong and cunning, and they're positioned to take over the world with humans none the wiser.

Ember and Dante Hill are the only sister and brother known to dragonkind. Trained to infiltrate society, Ember wants to live the teen experience and enjoy a summer of freedom before taking her destined place in Talon. But destiny is a matter of perspective, and a rogue dragon will soon challenge everything Ember has been taught. As Ember struggles to accept her future, she and her brother are hunted by the Order of St. George.

Soldier Garret Xavier Sebastian has a mission to seek and destroy all dragons, and Talon's newest recruits in particular. But he cannot kill unless he is certain he has found his prey: and nothing is certain about Ember Hill. Faced with Ember's bravery, confidence and all-too-human desires, Garret begins to question everything that the Order has ingrained in him: and what he might be willing to give up to find the truth about dragons.
Oh dear, where to begin with Talon.
It's hard to know where to begin with Talon, especially considering how excited I was to receive this one for Christmas. It's not that my expectations were ridiculously high, it's just that I was expecting more than what I got. I think I was imagining this rather cool book that was going to be filled with action and dragons, with a hint of romance too. I wasn't expecting it to be an angsty teen romance, with dragons mentioned every now and again. That wasn't what I signed up for.
I think the main problem I had with the book was that the main reason I wanted to read it so badly was because it had dragons in it. The books dust jacket is beautiful, it's made to look like shiny dragon scales. The book itself has the outline of a dragon on it, as well as some of the inside pages. Dragons everywhere. Except in the story. Ember, along with all other dragon characters, spend almost 99% of the book in human form. There's not much dragon to be found in a book that screams
dragon
! I don't think it was wrong of me to expect this book to contain lots of cool, hardcore, fire-breathing dragons.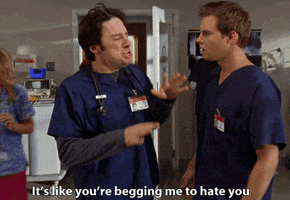 Me and every character.
This book was so frustrating for me because it read like every other YA out there. It contains so many YA tropes that it's hard not to laugh about it. It contains not one, but two super secret organisations. It contains the lead heroine who is 'special' for some inexplicable reason that everyone seems to get but me. Then there's the pointless love triangle. The insta love feel.
Everything!
I can definitely say that this is one of the most disappointing reads I've come across.
There was quite a lot of this book and the main storyline that confused me and didn't make as much sense as I would have liked. I think that's because it has barely any world building at all. We are told that Talon exists, the secret dragon organisation, and that the Order of St. George exists, the secret organisation that tracks down and kills dragons, but that's about it. We don't find out anything more about them. Or why they are hunting one another. Talon have yet to take over the world, they stay hidden, don't reveal themselves to humans nor do they go around massacring hundreds of people. So why are the Order of St. George so determined to hunt them down and kill them. I want proper explanations because it all felt rather pointless when reading it.
Then we have the characters, who are all flat, flat, flat, flat... FLAT! There is nothing to them, at all. Ember is just one big eye roll for me. I just felt like there wasn't one thing about her that I liked. She bugged me so much because she was a complete idiot. But I don't know if she is an idiot or it was the writing that made her seem like an idiot. There was a point where she mentions about 5 times on one page about a person being unable to look her in the eye. COME ON! We all know that means that person is lying and will clearly do something they shouldn't. I SEE IT. How does she not see it!?! Gah, stupid woman. Then we have the two love interests, who offer up nothing. The romance was terrible in this, not only do we have a pointless love triangle, we also have inner monologues that are cringe-inducing to read. You get cliched line after cliched line and I was beginning to lose all patience with this book.
'I wondered if I would ever see him again. And if I did, I wondered if I could somehow break through that dignified shell to the person beneath.'
"And that he wouldn't need to feel jealous or afraid, because she's right here. She's standing right in front of you.'
'I didn't know what I was missing, until I met you.'
This book was all romance, and not the swoon-worthy kind that you can really root for. This was that cringe-inducing, teen-angst, embarrassing-to-read type romance. Complete with the really pointless love triangle and a girl who talks about her 'inner dragon' the way that Anastasia Steele talks about her 'inner Goddess'.
And also there's the fact they stole the Mortal Kombat
symbol
.
1/5 Butterflies
I originally gave this 2/5 when I finished it, but reviewing it has made me realise that I don't even feel I can give it that many. It might be considered an okay read if it had been billed as a teen romance/drama. But it wasn't, everything about the physical book screams dragons! I wanted dragons, which didn't feel like too much to ask for but apparently it is. All the dragons in this seem to spend almost all their time in human form. It also doesn't help that Ember seems to act and think more human than dragon, she even refers to it as her 'dragon'. It's not your dragon.... you are a dragon!