Happy New Year
That gif above is probably the most amazing thing in existence. It also means that Dumbledore can be excited about the new year for me, because I can't be bothered.


I've been a little absent from the blog recently, so I wanted to take the opportunity to talk about my Christmas and the last few weeks. I also want to address some a few things, mainly why I have been rather absent blog wise for the last few months and some few changes coming to the blog. But first... CHRISTMAS!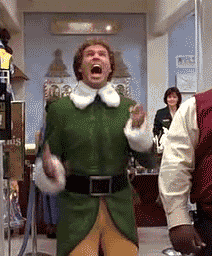 Christmas was so much fun! My family went completely over the top, as usual, but we had so much fun together. Me and the boyfriend woke up early Christmas day, to spend time together before he went to work. I was so happy with my presents from him, lots and lots of books. After he went to work my dad came to get me to take me to my parents house. Me, my parents, my two sisters and one of their partners were there in the morning. It took as an hour and half to open presents, which was a lot of fun getting to see what they made of all their gifts.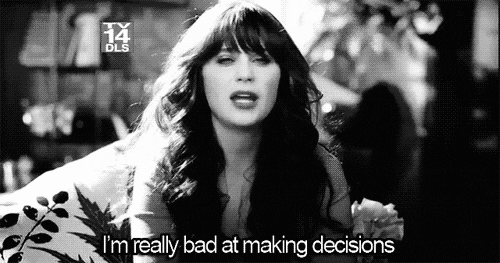 I got so many cool presents, including a ton more books, lots of Harry Potter stuff and a very unexpected gift from my nan. She usually sends us a £20 cheque each, so we all nearly fainted when we opened them this year. We lost my grandad the year before, so this year she'd decided to send a large cheque to all the grandchildren, so we could enjoy the money whilst she's alive. One sister is planning her dream trip to Disneyland, the other is planning a Christmas trip to Hong Kong. And me... I'm still in shock. I think I might use it for a new laptop and a new camera. Maybe a holiday. Decisions aren't my strong suit.
We had a great meal and then one sister went off to pick up her girlfriend, whilst I went to pick up James from work. The evening was spent with us 8, then my cousins, uncle, cousins boyfriend, nan and adorably cute baby second cousin joined us. There was drinking, laughter, games and fun and I had the greatest time and loved every minute. Boxing Day was more of a relaxing day, where we mostly lazed around together and ate food and watched some movies. It was a great way to recover from a very busy Christmas day.
The day after Boxing Day was a day I was really looking forward to. We were all going on the Harry Potter Studio Tour. I'd already been once, with my eldest sister and her boyfriend, but this time it was during Christmas when they set the Great Hall up with all the Christmas trees and have the castle covered in snow. I couldn't wait! There were 8 of us and we all had a great day. I definitely recommend the tour for any Harry Potter fans out there, you won't regret it.
Some Explaining
I decided to start this post by talking about Christmas because it was something more lighthearted. But now that I am on to the more serious part of the blog post and I am not sure where to begin or what I even want to say. Let me start by saying that I'd felt for a while that I was having a blog and reading slump. It took a few months to realise it was something else entirely.
By looking at the amount I've been blogging recently, it was clear that something wasn't right and something had changed. I usually average between 23-30 blog posts a month. That has been the same for almost the whole year or so that I've been blogging. But in the last few months I just haven't been able to sit down and write them. I've had more blog breaks then I can count. I only posted 14 posts in November and 15 in December. That's not many at all for me. I've also not been visiting all my other bloggers as much, something that I love to do. I felt terrible, like I was failing at something but not really knowing why.
But I want to thank Cait at Paper Fury for her blog post about
unnecessary apologising
. That post helped me so much at a time when I thought all I should be doing was apologising. I felt like I needed to write an apology at the beginning of every blog post, saying sorry it had been so long since my last one, or sorry that I hadn't replied to comments, sorry I hadn't visited my fellow bloggers in a while. But apologising just made me feel worse, like I was doing something wrong or failing at something. And I wasn't. So I stopped.
I thought my problem was that I was just hitting a slump blog wise. That seemed the best explanation for why I'd sit at laptop for hours, staring at the screen but being unable to write something. Or why I could read a book but then not have anything to say about it review wise. I didn't link it up with anything else going on in my life.
In the last 3 or 4 weeks, I'd begun to realise that my problem was bigger than the blog. I wasn't able to sleep at all, I'd be lying awake till 5 or 6 in the morning. I'd be getting up for work with zero energy, not knowing why I couldn't switch off at night and just sleep. I lost my appetite and I could get to ten at night and realise I hadn't eaten a thing all day. I'd walk off at work to go do something, before realising I'd be standing somewhere having no idea why I was there or what I was supposed to be doing. I just wanted to spend my days indoors, lying in bed and doing nothing; I avoided phone calls, texts and invitations to go out and do things. And then there was the bursting into tears and having no clue why I was even crying. I probably should have realised a lot sooner that there was something wrong, but I didn't.
I finally booked an appointment with the doctor once I realised that maybe something was wrong, or once other people pointed it out to me would be closer to the truth. I am so happy I booked that appointment, the doctor was a big help. He thinks my problems are stressed related, which once he said it it made sense. Our library is losing half it's budget and most of us will be losing our jobs soon. I've struggled to find a job elsewhere and I have more financial worries this year then I can handle. Not to mention the pressure us bloggers have a habit of putting on ourselves blog wise. The doctor has prescribed me with anti-depressants though, and I'm hoping these will help me. Although they do cause me to become beyond tired, a side effect I hope wears off over time.
So just bear with me! I'm hoping the next few weeks will see an improvement in my mood and my ability to blog.
Blog Changes
There are no drastic blog changes coming, but I will be blogging a little less. I think I put too much pressure on myself to post something 5 or 6 days out of the week. Something that is hard to do when you also work every day, need to fit in time for reading and also important things like sleep and food. So the main change will be that I will be aiming to post 3 or 4 times a week, instead of trying to have a post up every day. It's time to stop putting all this unnecessary pressure on myself!
If you managed to get through that whole post then thank you! I don't even know what I'm going on about half the time, haha. I just felt it was important to explain why the blog has been a bit all over the place recently. I'm hopeful that I will start to see an improvement in my mood very soon. Fingers crossed! Thank you all for being the understanding, wonderful, helpful people that you are. It made me feel sick posting this, but honesty feels like the best policy in this instance.