This is a weekly meme that I am hosting here at Reviews from a Bookworm. To take part all you have to do is share a movie review once a week, link back to Reviews from a Bookworm and add your link to the linky tool.
This weeks movie review will be for:
Big Hero 6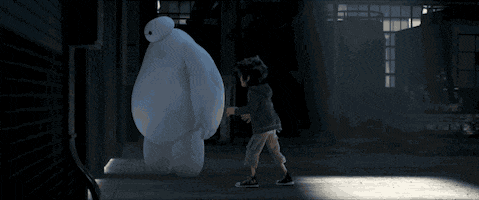 If you've been following my blog for a while then you should already know that I am a big fan of Disney. And also that I am just a big fan of kids films in general. If a new Disney movie is released then it is guaranteed that I am going to go to the cinema and watch it. I have two friends who are also big Disney fans, and they are usually more than happy to come with me. But my sister had told me I had to see it and so did a guy at my work, so I caved and made the boyfriend take me after work on Monday. He definitely wins lots of awesome boyfriend points for coming, especially since he hates Disney.
I didn't know what to expect from Big Hero 6, I went into it not really knowing anything about the story. My sister had told me it was the best Disney film she had seen since The Lion King, which is pretty high praise. It also meant that I went in with ridiculously high expectations, and it seemed impossible that this movie could live up to them. BUT IT DID!!! Now I want to go shout at everyone to go and see this movie because it was beyond amazing. Forget Frozen, forget Tangled, forget every Disney film you've seen recently. Big Hero 6 is better then them all.
The movie is set in the futuristic city of San Fransokyo, where Hiro Hamada spends his time taking part in illegal robot fights. Hiro is a genius, but he's wasting his talent and it's up to his big brother Tadashi to try and set him on a better path. So he takes him to the robotics lab at the University he attends, where he meets all of Tadashi's friends, as well as the project he's been working on - BAYMAX! Baymax is a personal healthcare robot, and also one of the cutest Disney characters
ever!
Hiro falls in love with the university and decides he must do whatever he can to get in. Now this is where I stop and tell you no more, because the direction the story took was one I wasn't expecting and I don't want to ruin that for you.
Funny Disney films have always been my favourites - ones like Hercules and The Emperor's New Groove - so I was so happy that Big Hero 6 is one of the funniest Disney films I've seen in a long time. Even the boyfriend laughed at this one, and I can't explain to you how much he hates Disney! I also liked that this was a movie that tugged on my heartstrings and made me sad as well. And also made me freak out when I thought it was all about to go horribly wrong. But I think the biggest sign that this was an amazing Disney film is the fact that my boyfriend actually enjoyed it. He actually felt it was a good film and said that when I buy it on DVD when it's released he will actually watch it again. THAT'S A BIG DEAL! I can never get him to willingly offer to watch a Disney movie, let alone willingly offer to rewatch a Disney film.
10/10 Butterflies
Big Hero 6 is the Disney film I have been waiting years for them to release. It's absolutely hilarious, and filled with amazing character after amazing character. It also tugged at my heartstrings and had me wanting to cry on more than one occasion. And what's more, it managed to convert my anti-Disney boyfriend. This is one I can tell I'm going to rewatch a lot whilst it's still out at the cinemas.
I've got a UK only and an international giveaway on the blog at the minute - both are for copies of The Sin Eater's Daughter by Melissa Landers. For more details and to enter go
here.