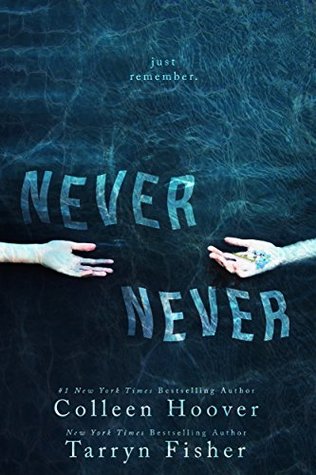 Title: Never Never
Author: Colleen Hoover & Tarryn Fisher
Buy this book: Amazon
/ Book Depository
Charlize Wynwood and Silas Nash have been best friends since before they could walk. They've been in love since the age of fourteen.

But as of this morning... they are complete strangers.

Their first kiss, their first fight, the moment they fell in love... every memory has vanished.

Charlize and Silas must work together to uncover the truth about what happened to them and why. But the more they learn about the couple they used to be... the more they question why they were ever together to begin with.
There have been a lot of books that I have found quite difficult to review, but those books were nothing compared to
Never Never
. It's hard to review something that isn't even a complete book, just part one in a serial that I have no idea how many more volumes are coming. But it's also hard to review something when you actually have no idea how you feel about the book. My opinion on this can be changed drastically if there isn't any good explanation for the memory loss they both suffer.
Charlie and Silas both find themselves in school, with absolutely no memory of who they are or why they are there. They don't remember each other, or the fact they have been dating for four years. They work together to try and find out why this has happened to them. But the more they find out about themselves and who they were as a couple, the more they begin to question everything. Now that is a rather interesting, if somewhat confusing, premise for a book and so I would have wanted to read it anyway, even if it wasn't by my auto-buy author Miss Hoover.
My NN feels in one gif.
This book was enjoyable, but very confusing. It's confused me to the point where I can't even decide if it was good or not. It's an incomplete book, so I don't really know what my feelings are. Volume 1 was good, but it's only good if there is going to be a decent explanation as to how these two people suddenly lost their memories. And also a decent explanation as to why they are even together, when they clearly had a rather messed up relationship.
I'd like to say that this is a review that will give you all some idea as to whether you want to read this or not. I'd be lying. This is really just me trying to get my thoughts down and finally decide what I'm actually feeling when it comes to this book. But all I am feeling right now is confused. I liked getting to know the characters, but you're getting to know them as they get to know themselves. I'm just generally confused by the whole '
I have no idea who I am'
aspect of the story and how that came about. BUT I WANT TO KNOW! This book has succeeded in making me desperate to find out what happens next. I need to know what the hell is going on and why these characters have suddenly started having memory loss.
When I first finished this book I put it down as a 5/5 read, because it was one I couldn't put down and really did intrigue me. But it's confusing and not a lot happens in volume 1, considering it's only 150 pages. I need answers and feel like I don't have much faith right now that those answers are going to make any sense. I don't feel disappointed by this book at all, I still really enjoyed it. I just require more. I feel like volume 2 might give me some idea of what I actually feel about this book and the characters. At least I hope so! I still highly recommend all things Hoover, that woman never disappoints me.