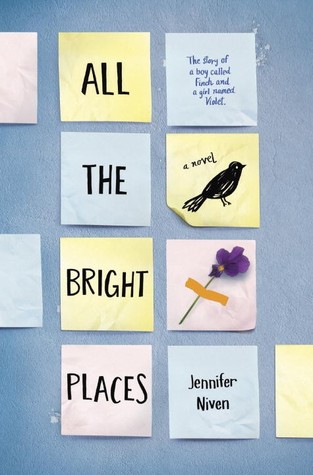 Title: All the Bright Places
Author: Jennifer Niven
Publisher: Penguin
Buy this book: Amazon
/ Book Depository
The Fault in Our Stars meets Eleanor and Park in this compelling, exhilarating, and beautiful story about a girl who learns to live from a boy who intends to die.Theodore Finch

is fascinated by death, and he constantly thinks of ways he might kill himself. But each time, something good, no matter how small, stops him.

Violet Markey

lives for the future, counting the days until graduation, when she can escape her Indiana town and her aching grief in the wake of her sister's recent death.

When Finch and Violet meet on the ledge of the bell tower at school, it's unclear who saves whom. And when they pair up on a project to discover the "natural wonders" of their state, both Finch and Violet make more important discoveries: It's only with Violet that Finch can be himself—a weird, funny, live-out-loud guy who's not such a freak after all. And it's only with Finch that Violet can forget to count away the days and start living them. But as Violet's world grows, Finch's begins to shrink.
Not an exaggeration!
I've had a long time to write this review, months in fact, and I'm still at a complete loss for words. I really will try my hardest to find the adequate words to sum up how I feel about this book, but I'm not sure even that will be enough. It's just one of those books where I know, no matter how much I gush/fangirl over it, I'm never going to do the book justice with my review. But, trust me on this, if this book isn't on the top of your 2015 TBR pile then it needs to be. Seriously, I mean it, go and pre-order it and get ready to feel all the feels.
Finch & Violet. Violet & Finch. You can't think of one without thinking of the other, and I can't think about either without wanting to burst into tears and smile simultaneously. It's been two months since I read this book and my feels are still all over the place. I would like you to all believe that I am joking right now, but sadly it's true, just looking at the book spine on my shelf hurts me! MY EMOTIONS! I wasn't prepared for what Niven was about to do to me. I love her for it, I loathe her for it and I want you to all experience this wonderful/torturous feeling for yourself. Violet and Finch's story is touching, heart-breaking and felt so unbelievably real that I started to forget that it was fiction.
This book gets compared to Rainbow Rowell and John Green, which I feel leads to people having a lot of high expectations for it. I hate those comparisons on books -
'If you liked *insert really well known book here* then you'll love this!'
- mostly because the books are usually nothing alike or the book doesn't live up to the expectations you get from the comparison. This is one of the few times where I feel it didn't just live up to the expectations, it hugely surpassed them, at least for me. This book made me feel everything I'd always wanted to feel from the Rowell and Green books I'd read. I just.....
AHHHHHH!
Please, tell me you didn't expect a coherent review because you're going to get fangirling, flailing and nonsensical rambling.
Deal with it!
Okay, okay,
okay!
I will try my hardest to actually do some real reviewing right now. Let's start with some characters, shall we? I'm going to start with Finch because, let's be honest, how can you not start with the guy whose name is
Theodore Finch
. I'm calling it now - Best. Name. Ever. And also one of the greatest characters I've ever come across. You know you're in for a roller-coaster ride with Finch, almost from the moment you meet him. He's standing on a ledge, six stories up and trying to decide if today would be a good day to die. Finch is dealing with depression, but when he sees Violet on that ledge he helps her. Finch is in such a dark place, but he was ready and willing to be there for somebody else when they needed it. He's a character that can make you laugh, smile, cry and hurt; sometimes all at once.
'The fact is, I was sick, but not in an easily explained flu kind of way. It's my experience that people are a lot more sympathetic if they can see you hurting, and for the millionth time in my life I wish for measles or smallpox or some other easily understood disease just to make it easier on me and also on them.' - P15
While I could relate to Finch in some ways, despite being so different to him, it was Violet who I completely connected to and identified with. She's dealing with loss and grief, she's hurting but she's trying so hard to push it all down and not let anyone else see it. Finch and Violet help one another in different ways, they each have something to teach the other person. If you read this book then you're not going to be able to stop yourself being moved by it. And I think anyone who has dealt with a big loss in their life will be able to identify with Violet as easily as I could.
"It's like I've got this angry little person inside me, and I can feel him trying to get out. He's running out of room because he's growing bigger and bigger, and so he starts rising up, into my lungs, chest, throat, and I just push him right back down. I don't want him to come out. I can't let him out... Because I hate him, because he's not me..." - P226
I've spoken in the past about the fact my blog was started six months after losing my aunt last year. This book touched me in a way that I never expected. Violet had me crying at times that I wasn't even expecting because Niven perfectly captured how isolating loss can be. She also made me feel so much better about the fact I spent the last year and a half feeling ridiculously angry at almost everyone, and like I could happily slap complete strangers. I'm not crazy, I promise. It's just that Niven writes about loss in such a way that you feel like she must have dealt with a lot of it in her own life.
I'm so happy that this beautiful book found it's way to me. Jennifer Niven is a superbly talented author and I'm going to be keeping an eye out(totally stalking her online) for whatever she brings out next. She writes about such serious subjects in a way that makes it feel like she's putting so much of herself into it. This book is so touching and completely soul destroying, it's the kind of book that breaks you. I read it two months ago and I'm still broken. I opened it up to get a few of my favourite quotes from it and that had me crying.
How it feels when you reach the end of this book:
Because, even though you survived the book, you are completely broken. Niven just destroyed your feels and you're not sure you'll ever get them back.
There was so much I planned to say about this book. I wanted to be able to give you all of the reasons why you should go and pick it up the moment you can, but I don't have the words. It's raw, honest, heart-breaking, touching.... it's EVERYTHING! Just... eh.... meh....URHGHGHGHGH!
ALL THE BUTTERFLIES! A MILLION BUTTERFLIES!
This is one of those moments where a 5/5 just doesn't seem to be enough! I'm sorry that I can't adequately sum up my emotions and feelings and love for this book. But, I'm totally proud of myself that this whole reviews isn't just - OMFG THIS BOOK IS AMAZING!!! WHY HAVEN'T YOU PRE-ORDERED IT YET?!?! THIS IS INCREDIBLE. I'M DYING INSIDE. WHY DID YOU DO THIS TO ME NIVEN? WHY? WHY WWWWHHHHYYYYY? - because that's how it made me feel. I know there is a huge hype surrounding this book, and it's film adaptation, but it's compeltely justified. This book deserves every single bit of praise, acclaim and fangirl gushing it's getting at the minute. This is going to be one of the books of 2015. And, trust me people, this is the kind of heartbreak you want in your life.
*I received a copy of this novel from the publisher in exchange for a free and honest review and received no monetary compensation for this review.