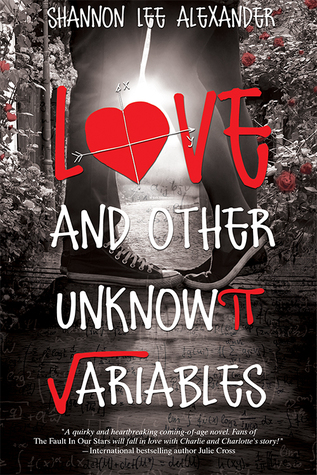 Title: Love and Other Unknown Variables
Author: Shannon Lee Alexander
Publisher: Entangled Teen
Buy this book: Amazon
/ Book Depository
Charlie Hanson has a clear vision of his future. A senior at Brighton School of Mathematics and Science, he knows he'll graduate, go to MIT, and inevitably discover solutions to the universe's greatest unanswered questions. He's that smart. But Charlie's future blurs the moment he reaches out to touch the tattoo on a beautiful girl's neck.

The future has never seemed very kind to Charlotte Finch, so she's counting on the present. She's not impressed by the strange boy at the donut shop—until she learns he's a student at Brighton where her sister has just taken a job as the English teacher. With her encouragement, Charlie orchestrates the most effective prank campaign in Brighton history. But, in doing so, he puts his own future in jeopardy.

By the time he learns she's ill—and that the pranks were a way to distract Ms. Finch from Charlotte's illness—Charlotte's gravitational pull is too great to overcome. Soon he must choose between the familiar formulas he's always relied on or the girl he's falling for (at far more than 32 feet per second squared).
I'd seen this book on Netgalley, the interesting cover and intriguing summary had me downloading it. I have to admit though, the fact it was another story involving a romance with a girl with an illness did make me think this was going be yet another YA cancer story. Now cancer stories aren't necessarily bad, it's just that they've started to seem a little overused in YA fiction. It's begun to feel like a plot device that's being used for no other reason than to make you cry and to sell books. I'd enjoy most of them more if it felt they actually had something significant to say about a serious issue.
I actually enjoyed this book in the very beginning, I was almost sure this was going to be a book I would absolutely love. The characters were quirky and funny, they were characters that actually had me laughing out loud. But the happy feeling didn't last for long and soon I began to get a little bit frustrated with the book. It started to drag a little, there seemed to be nothing really happening plot wise and that gets boring fast. But my biggest issue probably came at about the 40% mark and it eventually caused me to have to DNF the book altogether. I wasn't even going to bother reviewing it, but the urge to moan about it is too strong.
The characters, the characters I'd been so sure I loved, turned out to be what made me want to put the book down. Charlotte became the character I hated the most because she acted in a way that I think is completely unacceptable, but she doesn't even seem to realise. And to make the a million times worse, everyone else acts like it isn't a bad thing either. When she finally tells Charlie what's wrong with her, he doesn't react the way that she wants him to. He doesn't even do anything wrong, he just doesn't act in the way she wanted him to. So what does Charlotte do, Charlotte goes and punches Charlie in the face. Not a little slap, she full on punches him in the face and gives him a bloody nose. And everyone acts like this is a totally acceptable way to behave. No! No... No... No... NOOOOOO! What is wrong with these people? I wanted Charlie to punch her back so badly, at least then someone might have actually reacted. I had to rage quit after that, I don't want to read a book where it's deemed perfectly acceptable for someone to just punch you in the face if you don't act how they want you to. I'm sure the characters would have felt differently if the roles had been reversed. NOT COOL!
I really wanted to love this one, it felt like it had so much to offer in the beginning. But that one moment is just something that I could not get over. I instantly hated Charlotte, lost all respect for Charlie that he doesn't really react at all and didn't understand why everyone else acted like it was okay. IT'S NOT OKAY!
*I received a copy of this novel from the publisher in exchange for a free and honest review and received no monetary compensation for this review.