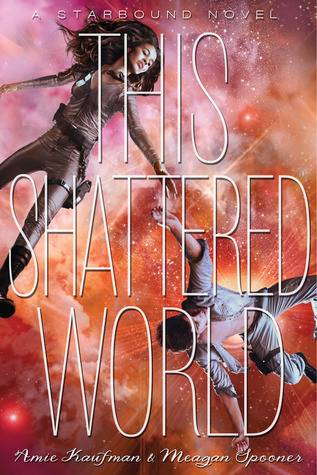 Title:
This Shattered World
(Starbound #2)
Author:
Meagan Spooner
and
Amie Kaufman
Publisher:
Disney Hyperion
Buy this book:
Amazon
/
Book Depository
The second installment in the epic Starbound trilogy introduces a new pair of star-crossed lovers on two sides of a bloody war.

Jubilee Chase and Flynn Cormac should never have met.

Lee is captain of the forces sent to Avon to crush the terraformed planet's rebellious colonists, but she has her own reasons for hating the insurgents.

Rebellion is in Flynn's blood. Terraforming corporations make their fortune by recruiting colonists to make the inhospitable planets livable, with the promise of a better life for their children. But they never fulfilled their promise on Avon, and decades later, Flynn is leading the rebellion.

Desperate for any advantage in a bloody and unrelentingly war, Flynn does the only thing that makes sense when he and Lee cross paths: he returns to base with her as prisoner. But as his fellow rebels prepare to execute this tough-talking girl with nerves of steel, Flynn makes another choice that will change him forever. He and Lee escape the rebel base together, caught between two sides of a senseless war
I'd been quite nervous to get to This Shattered World, mostly because of how much I loved These Broken Stars and my worry that the sequel wouldn't be anywhere near as good. I shouldn't have worried so much, Meagan Spooner and Amie Kaufman definitely deliver with This Shattered World. Although, if I am being completely honest, my feelings for the book are the same as my feelings for the cover - I really like it and it's good, it's just not as good as the first one.
The second book in the Starbound trilogy takes us to Avon, where Captain Jubilee 'Lee' Chase works to take down the colonist rebellion, in which Flynn is a key player. When the two cross paths it leads to Flynn taking Jubilee back to the colonists base, in the hopes that she can be used as a bargaining chip. But the colonists hatred for the soldiers and the terraforming companies, who they feel have failed them on Avon, means that everyone else would much rather see her dead. Flynn makes a life changing decision when he helps Jubilee escape.
This book has a really fast start, it wastes no time and jumps straight into the action. I was surprised by just how different this felt to These Broken Stars. It's so much darker and the stakes are much higher this time. It's filled with war and death, what more could I ask for! I liked that this was darker, that there was so much at stake for both Jubilee and Flynn, it meant that there wasn't much time for romance. That worked better for me, especially since I wasn't entirely convinced when it came to those two. It felt like they moved from hating one another to liking one another far too quickly. But, on the plus side, it never reaches that awkward insta-love phase where I want to sigh, roll my eyes and throw the book across the room.
Okay, I feel I must confess to being a little confused when reading This Shattered World, It's been over a year since I read book one, and I clearly didn't remember it as well as I thought. If you're one of those people who remembers every minute detail of the books you read, I both envy and kind of despise you. I am not one of those people! I forget things, I don't remember every plot point and so reading sequels without rereading the first one beforehand can sometimes cause problems. I think it might have done here, which may have contributed to why I didn't love it as much as book one. I feel like I remember most of These Broken Stars, at least from the main storyline, but when it came to the whispers in This Shattered World, I was feeling a little confused. I just couldn't remember everything I learnt about them in book one, so I felt a little lost there. They also felt a lot creepier in this, especially with the 'Fury' making people go so crazy they suddenly start killing people for no apparent reason.
One thing I was very excited about was the fact that Lilac and Tarver make small appearances in this book. I think I would have missed them far too much if they haven't! Tarver used to serve with Jubilee, so it gives him the perfect excuse to turn up in this book and lend a helping hand. I have to admit to kind of wishing there had been more of them, but that's just because I missed the laughs they brought me in These Broken Stars. This Shattered World is light on the laughs, it's much more serious and we don't get the hilarious dialogue between characters like we did with TBS.
4/5 Butterflies
I really did enjoy This Shattered World, but I must admit that I enjoyed These Broken Stars more. I've been left with very little to say about the book though, which perplexes me. I felt it was a lot darker than the previous book, something that I appreciated but I did miss the funny dialogue. I am very excited to see where the series goes next and I hope it can add the light-hearted banter back in, despite how serious everything is getting. If you enjoyed the first book then you're definitely not going to be disappointed.
*I received a copy of this novel from the publisher in exchange for a free and honest review and received no monetary compensation for this review.