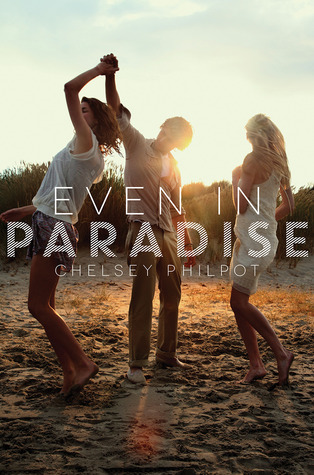 Title: Even in Paradise
Author: Chelsey Philpot
Publisher: Harper Collins
Buy this book: Amazon
When Julia Buchanan enrolls at St. Anne's at the beginning of junior year, Charlotte Ryder already knows all about the former senator's daughter. Most people do... or think they do.

Charlotte certainly never expects she'll be Julia's friend. But almost immediately, she is drawn into the larger than-life-new girl's world—a world of midnight rendezvous, dazzling parties, palatial vacation homes, and fizzy champagne cocktails. And then Charlotte meets, and begins falling for, Julia's handsome older brother, Sebastian.

But behind her self-assured smiles and toasts to the future, Charlotte soon realizes that Julia is still suffering from a tragedy. A tragedy that the Buchanan family has kept hidden... until now.
Before I got to Even in Paradise, I'd been really unlucky with my recent reads. It had felt like everything I'd been reading had either turned out to be a huge disappointment or just infuriatingly bad. Even in Paradise felt like a breath of fresh air compared to them. It was a book that was easy to get into, quick to get through and enjoyable. But it also has me torn about my feelings for it because I enjoyed the majority of it, but wasn't completely happy with the end.
After Charlotte helps a drunk Julia Buchanan one night, she finds herself being invited into the Buchanan's crazy world. She falls in love with the Buchanan family and gets swept up in their life of parties and summer homes. This book has a definite Great Gatsby vibe to it, if that wasn't obvious enough with the use of the name Buchanan. But when reading it that definitely is the first thing that comes to mind, and I'm almost certain that's where the author got her inspiration from. It also reminded me of We Were Liars, with the summer home and the family hiding things. It's interesting to see Charlotte get accepted so readily into their world and how much they want and need her there. There's a romance in this between Julia's brother Sebastian and Charlotte, it's quite cute and well done but never takes over the story.
This is an easy read, a perfect beach read in fact, the kind of book you can easily get through in one sitting. It's very character driven, so don't be expecting huge amounts to happen plot wise. It's more about Charlotte getting to know the Buchanan's and what they're dealing with. The more she gets to know them the more she sees they are suffering. I really liked getting to know the Buchanan family, they all had such big personalities. It's easy to see why Charlotte comes to love them all and why she gets so easily swept up into their world. Her romance with Sebastian was handled very well and I don't think the story ever became solely about that. I liked that there was so much more going on than just the romance.
My negatives with the story were mostly to do with the end. I know a lot of people loved the ending, but it didn't completely work for me. I felt like the drama got to be too much at the end, it started to feel a bit like a soap opera to me. It's also a story that you have seen before, so it doesn't feel too original when you read it. But that's probably going to be the case with a book that feels like it takes a lot of inspiration from The Great Gatsby. My other negative was the fact that I felt we barely scratched the surface with the characters. I did enjoy the characters, but I felt like we could have gone a lot deeper with all of them. I wanted more development when it came to the Buchanan's, but then this book would have been a whole lot longer.
3/5 Butterflies
I hate 3/5 reads, there is just something about them that leaves me with very little to say. It seems like the most I can come up with is eh, it was good but it wasn't amazing. This was an enjoyable and quick read, I thought it was really well done. I liked the inspiration it took from The Great Gatsby and thoroughly enjoyed getting to know the Buchanan family. My only problem with the book is that it's a story that's been done before, so it doesn't make it very memorable. If you're looking for a more character driven book then I would highly recommend it.
*I received a copy of this novel from the publisher in exchange for a free and honest review and received no monetary compensation for this review.