This is a weekly meme that I am hosting here at Reviews from a Bookworm. To take part all you have to do is share a movie review once a week, link back to Reviews from a Bookworm and add your link to the linky tool.
This weeks movie review will be for:
Gone Girl
Before writing this review I had a decision to make. Do I post the review straight away or do I wait a week so I can reread the book and review that first? I decided to not do a reread because I need to get this review out as quickly as possible. I need to absolutely gush about my love for it and to also beg you all to go watch it. I chose not to reread the book before seeing the movie, even though it's been a few years, because I wanted to not pick apart the movie and I also remembered a lot of the book. I knew the whole general storyline and what my issues with the book had been. I couldn't wait to see how it all worked on screen, it's one of those stories that you know will make an truly amazing movie
if done right
. This was done right!
I might consider reviewing the book in the future because the movie has me itching for a reread. I know from my ancient Shelfari account that I gave this 3/5 stars at the time, but it would probably have been a rating of 3.5 on here. I remember enjoying the book but found it started slow and took a while to get into. Once I was in though, I was all in and I could not put it down. The story had absolute absurd moments but it was fascinating to read. I know I review YA on here, but if you were a fan of YA thrillers like Dangerous Girls and want to try some adult fiction then I recommend it. It reminds me of Dangerous Girls in the way that it has you questioning yourself a lot and how much it will mess with your mind. And also weep for humanity and the crazy people that inhabit it.
I have been struggling to figure out exactly how to review the movie. I wish to give away absolutely no spoilers, it's definitely a movie you need to experience for yourself. I highly recommend seeing it before you can have it spoiled. It will happen, I guarantee that. The only point I really need to get across in this review is how extraordinarily good this movie was. It isn't just a brilliant adaptation, it's a brilliant movie in general, for so many reasons.
I can't stop saying:
'This man of mine may kill me.'
For anyone who doesn't now what this movie/book is about then I guess I should give you a quick summary. The movie focuses on the search for Amy Dunne, the wife of Nick Dunne, who goes missing on the morning of their anniversary. After finding Amy missing and an overturned coffee table and chair in his living room, hinting at a struggle, Nick phones the police. What follows is a massive police search that immediately gets the attention of the national media. As more aspects of Nick and Amy's life are revealed, Nick becomes the main suspect in Amy's disappearance. Your kept guessing right along with everybody else as to what really happened to Amy that day.
The length of the film is about two and half hours long, which might seem too long to some but it never feels it. I am so happy that they did not try to condense the story down or shorten the length of the film. The length is entirely necessary for them to be able to tell this story right. You need to come to know Nick and my's story, to really come to know them. To rush this story would be to ruin it. It would make your head spin far too much if it all happened and concluded within two hours.
The performances are exceptional, definitely worthy of high praise and nominations at the next awards season. I am almost certain we will see many nominations for Rosamund Pike, who plays Amy Dunne perfectly, but we might see Ben Affleck ignored. I feel Affleck can be really underrated at times, which is a shame considering how well he does in this. He plays the perfect Nick Dunne, he has that right amount of awkward, shows how easily his dealings with the press and in front of the press can make him so vilified. It's the small things he does that make it so easy to doubt him, to see why the world, and why you, can see him killing his wife. Rosamund Pike's performance is flawless, she really becomes Amy to me. I can't praise her performance enough, you really have to see it.
David Fincher, the director behind The Social Network and The Girl with the Dragon Tattoo, does such a good job. I've actually come to expect nothing less from him though, he did direct one of my all time favourite movies after all - that would be Fight Club, in case you were wondering. I'm not sure if Gone Girl will gain him more critical acclaim than Social Network, but it definitely deserves it. This movie.... I actually can't even. I just loved it so much, I was entirely engrossed in this film, I didn't even check my phone once the whole time. I am a horrible phone checker in the cinema, especially during long movies.
This is a dark, disturbing thriller that will have you questioning Nick as much as the people in the film. You'll be drawn into the story of Amy and Nick and their life, wanting to see what happened between them to lead to the events that day. As the evidence against Nick begins to mount up, you'll still be unsure exactly what has happened. This is a movie you need to experience for yourself because it's actually really hard to review. So much of the movie can't be commented on because it would ruin the story for you.
9/10 Butterflies
I'm not sure if this could be considered the perfect film, but it's a perfect adaptation. Any changes made were entirely necessary in order to make this the best movie it could be. It tells the story in a way that stays so true to the book, but looses some of the absurdity of it all. It's as disturbing as the book, but it's the performances of the actors involved that bring the characters to life and make them believable. The fact that the screenplay was written by the author of the book is plain to see. She superbly keeps the film loyal to the book, but she makes all the right choices when it comes to what to leave out and what to change. This is a movie that is easy to get lost in, you can't look away from the screen. I love movies that mess with your mind and keep you guessing, which I am sure this will accomplish for those who haven't read the book and don't know how it all ends.
Next weeks review is for:
In which I measure how good Sam Clafin's acting is by how much he manages to make me want to slap him.
I have been meaning to take part in both of the following memes for a while now, so its nice to finally be able to get to them. I will be taking part in
Reading is Fun Again
's
Thoughtful Thursday and
Okay, Let's Read
's
Thursday Thoughts, picking between them or doing both topics each week.
Reader Problems
What are some of the "whiny" problems you find yourself coming across as a reader? Do you deal with book hangovers often? How do you react when a character you like is killed off? Do certain books you might be reading effect your daily life? Do you catch yourself day dreaming about characters in your books? In other words, how is the magical world of reading ruining your life?
There are so many problems with being a reader, something I have wanted to do a post on for so long. I probably still will at some point, but I kind of realised that those problems need to each have individual posts. There are far too many to put in one tiny post.
Okay, so book hangovers don't happen too often but when they hit, they hit hard. Sometimes a book just grabs you and won't let you go, even after you have finished it. You want to pick up a new book and move on, but you can't. Nothing else measures up or is as good as that book. Everything else just pales in comparison. My basic reaction to book hangovers is this: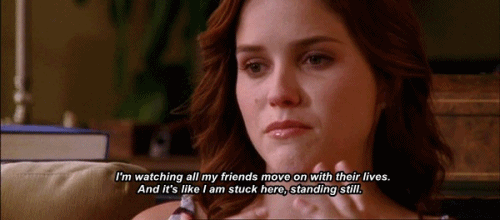 Deaths of beloved characters! Noooooooo. How do I handle this? I don't. I cry, I sob and I go through all the stages of grief.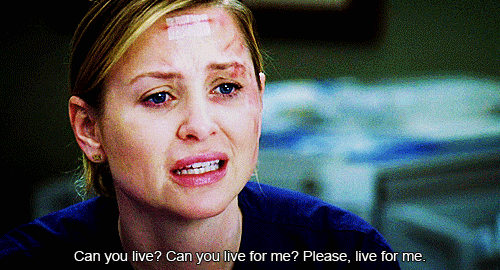 I am not above offering virtual cookies to authors over Twitter!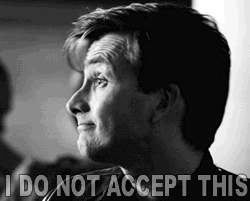 Okay, so I still haven't mastered the final stage but I am working on it. I am still stuck in a mix of all four stages when it comes to the last Harry Potter book, and that shit was years ago. I don't do well with character deaths. Unless we're talking Allegiant and then I applaud that all day long... b*tch had it coming.
In my
blogoversary post
I posted my giveaway to celebrate 1 year of blogging. I am giving one winner the chance to win up to £40 worth of books of their choice from Book Depository. I am also giving one runner up a book of their choice, worth up to £10 from Book Depository.