Friday Finds is something that was started over on
ShouldBeReading
and Stacking the Shelves over at
TyngaReviews
, I am in love with all of these as I love finding other blogs to follow and books to read through these! So check them all out and see what you find, Stacking the Shelves has a lot of participants as well which is great. This is basically a way for me to show what books I have received, borrowed or bought each week. All book covers and their summary come from back of book or Goodreads.
Firefly Lane by Kristin Hannah
From the
New York Times
bestselling author of
On Mystic Lake
comes a powerful novel of love, loss, and the magic of friendship. . . .
In the turbulent summer of 1974, Kate Mularkey has accepted her place at the bottom of the eighth-grade social food chain. Then, to her amazement, the "coolest girl in the world" moves in across the street and wants to be her friend. Tully Hart seems to have it all---beauty, brains, ambition. On the surface they are as opposite as two people can be: Kate, doomed to be forever uncool, with a loving family who mortifies her at every turn. Tully, steeped in glamour and mystery, but with a secret that is destroying her. They make a pact to be best friends forever; by summer's end they've become
TullyandKate.
Inseparable.
So begins Kristin Hannah's magnificent new novel. Spanning more than three decades and playing out across the ever-changing face of the Pacific Northwest,
Firefly Lane
is the poignant, powerful story of two women and the friendship that becomes the bulkhead of their lives.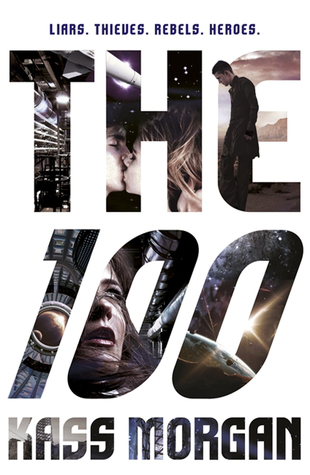 The 100 by Kass Morgan
In the future, humans live in city-like spaceships orbiting far above Earth's toxic atmosphere. No one knows when, or even if, the long-abandoned planet will be habitable again. But faced with dwindling resources and a growing populace, government leaders know they must reclaim their homeland... before it's too late.
Now, one hundred juvenile delinquents are being sent on a high-stakes mission to recolonize Earth. After a brutal crash landing, the teens arrive on a savagely beautiful planet they've only seen from space. Confronting the dangers of this rugged new world, they struggle to form a tentative community. But they're haunted by their past and uncertain about the future. To survive, they must learn to trust - and even love - again.
Red Hill by Jamie McGuire
When the world ends, can love survive?
For Scarlet, raising her two daughters alone makes fighting for tomorrow an everyday battle. Nathan has a wife, but can't remember what it's like to be in love; only his young daughter Zoe makes coming home worthwhile. Miranda's biggest concern is whether her new VW Bug is big enough to carry her sister and their boyfriends on a weekend escape from college finals.
When reports of a widespread, deadly "outbreak" begin to surface, these ordinary people face extraordinary circumstances and suddenly their fates are intertwined. Recognizing they can't outrun the danger, Scarlet, Nathan, and Miranda desperately seek shelter at the same secluded ranch, Red Hill. Emotions run high while old and new relationships are tested in the face of a terrifying enemy—an enemy who no longer remembers what it's like to be human.
Set against the backdrop of a brilliantly realized apocalyptic world, love somehow finds a way to survive. But what happens when the one you'd die for becomes the one who could destroy you?
I just can't resist The Works 3 for £5 deal!
Naomi & Ely's No Kiss List by David Levithan
Any great friendship can be as confusing, treacherous, inspiring and wonderful as any great romance.
Naomi and Ely have been best friends forever. Naomi loves and is in love with Ely, and Ely loves Naomi, but prefers to be in love with boys. So they create their "No Kiss List" of people neither of them is allowed to kiss.
And this works fine - until Bruce.
Bruce is Naomi's boyfriend, so there's no reason to put him on the List. But Ely kissed Bruce - and the resulting fallout is going to shake up the world!
Two Boys Kissing by David Levithan
From the New York Times best-selling author of Every Day, another thoughtful and original perspective on the things we do for love.
The two boys kissing are Craig and Harry. They're hoping to set the world record for the longest kiss. They're not a couple, but they used to be.
Peter and Neil are a couple. Their kisses are different. Avery and Ryan have only just met and are trying to figure out what happens next. Cooper is alone. He's not sure how he feels.
As the marathon progresses, these boys, their friends and families evaluate the changing nature of feelings, behaviour and this crazy thing called love.
Decided to give him another go, even though I really didn't like Every Day and thought it made David Levithan seem like a giant wanker.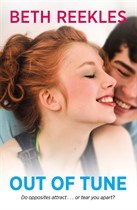 Out of Tune by Beth Reekles
Ashley Bennett is a straight-A student in her junior year of high school, and life is looking good: she's got a boyfriend whom she loves, a group of friends who love to party... But really, Ashley loves to curl up at home with a good book, and she can't wait to go to college. When junior year starts, the life Ashley's settled into is turned upside down - the empty house next door has finally been sold, and moving in is Todd O'Connor...
When Ashley first meets Todd, he seems aloof and cocky, and she's reluctant to share a ride to school with him as her mom tells her to. As the two get to know each other, though, Ashley comes to realise that the mysterious, brooding Todd O'Connor, who all the girls are swooning over, is actually bookish and shy, and a little bit lonely. His dad passed away a few years ago, leaving him in the care of his uncle, and since then Todd has mostly kept to himself, his books, and his guitar.
And as Todd gets to know Ashley, he forces her to realise that her relationship with her boyfriend, Rob, isn't really making her happy - Rob is selfish, arrogant, and domineering. Will Ashley find the courage to forge her own path?
17 First Kisses by Rachael Allen
No matter how many boys Claire kisses, she can't seem to find a decent boyfriend. Someone who wouldn't rather date her gorgeous best friend, Megan. Someone who won't freak out when he learns about the tragedy her family still hasn't recovered from. Someone whose kisses can carry her away from her backwoods town for one fleeting moment.
Until Claire meets Luke.
But Megan is falling for Luke, too, and if there's one thing Claire knows for sure, it's that Megan's pretty much irresistible.
With true love and best friendship on the line, Claire suddenly has everything to lose. And what she learns—about her crush, her friends, and most of all herself—makes the choices even harder.
In her moving debut, Rachael Allen brilliantly captures the complexities of friendship, the struggles of self-discovery, and the difficulties of trying to find love in high school. Fans of Sarah Ockler, Susane Colasanti, and Stephanie Perkins will fall head over heels for this addictive, heartfelt, and often hilarious modern love story.
In The After by Demitria Lunetta
In debut author Demitria Lunetta's heart-pounding thriller, one girl must fight for her survival in a world overrun by violent, deadly creatures. Perfect for fans of
New York Times
bestsellers like
The 5th Wave
and
Across the Universe
.
Amy Harris's life changed forever when They took over. Her parents—vanished. The government—obsolete. Societal structure—nonexistent. No one knows where They came from, but these vicious creatures have been rapidly devouring mankind since They appeared. With fierce survivor instincts, Amy manages to stay alive—and even rescues "Baby," a toddler who was left behind. After years of hiding, they are miraculously rescued and taken to New Hope. On the surface, it appears to be a safe haven for survivors. But there are dark and twisted secrets lurking beneath that could have Amy and Baby paying with not only their freedom . . . but also their lives.
Been curious about this one for a while now.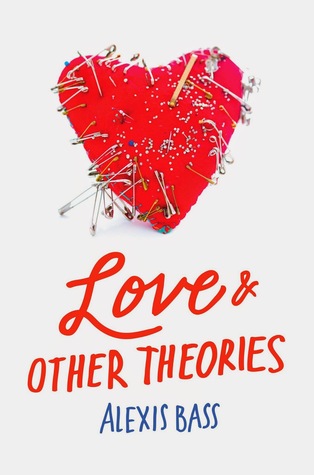 Love and Other Theories by Alexis Bass
If you want more, you have to give less.
That's the secret to dating in high school. By giving as little as they expect to get in return, seventeen-year-old Aubrey Housing and her three best friends have made it to the second semester of their senior year heartbreak-free. And it's all thanks to a few simple rules: don't commit, don't be needy, and don't give away your heart.
So when smoking-hot Nathan Diggs transfers to Lincoln High, it shouldn't be a big deal. At least that's what Aubrey tells herself. But Nathan's new-boy charm, his kindness, and his disarming honesty throw Aubrey off her game and put her in danger of breaking the most important rule of all: Don't fall in love.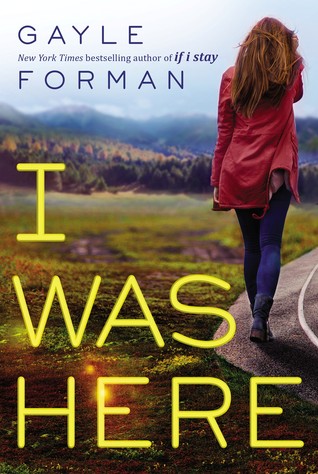 I Was Here by Gayle Forman
Cody and Meg were inseparable.
Two peas in a pod.
Until . . . they weren't anymore.
When her best friend Meg drinks a bottle of industrial-strength cleaner alone in a motel room, Cody is understandably shocked and devastated. She and Meg shared everything—so how was there no warning? But when Cody travels to Meg's college town to pack up the belongings left behind, she discovers that there's a lot that Meg never told her. About her old roommates, the sort of people Cody never would have met in her dead-end small town in Washington. About Ben McAllister, the boy with a guitar and a sneer, who broke Meg's heart. And about an encrypted computer file that Cody can't open—until she does, and suddenly everything Cody thought she knew about her best friend's death gets thrown into question.
I Was Here
is Gayle Forman at her finest, a taut, emotional, and ultimately redemptive story about redefining the meaning of family and finding a way to move forward even in the face of unspeakable loss.
First There Was Forever by Juliana Romano
Perfect for fans of Jenny Han's The Summer I Turned Pretty and Huntley Fitzpatrick's My Life Next Door, Juliana Romano's expressive debut is an absorbing and bittersweet story about first love, first loss,and the friends that carry us through it all.
Lima and Hailey have always been best friends: Lima shy and sensitive, Hailey funny and free-spirited. But Hailey abandons Lima to party with the popular kids and pursue Nate, her disinterested crush. As their friendship falters, Lima and Nate begin spending more time together. And before Lima knows what she's feeling, she and Nate do something irreversible. Something that would hurt Hailey....if she knew it happened.
Lima thinks she's saving her friendship by lying, but she's only buying time. As the secrets stack up, Lima is forced to make a choice: between her best friend forever, and the boy who wasn't meant to be hers.
In my
blogoversary post
I posted my giveaway to celebrate 1 year of blogging. I am giving one winner the chance to win up to £40 worth of books of their choice from Book Depository. I am also giving one runner up a book of their choice, worth up to £10 from Book Depository.