Friday Finds is something that was started over on
ShouldBeReading
and Stacking the Shelves over at
TyngaReviews
, I am in love with all of these as I love finding other blogs to follow and books to read through these! So check them all out and see what you find, Stacking the Shelves has a lot of participants as well which is great. This is basically a way for me to show what books I have received, borrowed or bought each week. All book covers and their summary come from back of book or Goodreads.
This week has been quite good, but it's ending with me being off work sick and that sucks. Mainly because I don't like being sick, I also can't even binge watch my go to TV show of the moment, which is The Killing btw, because I have to wait for the boyfriend to finish work tonight before I can. I'm also struggling with reading and blogging because sitting up makes me feel dizzy. Oh well, at least I don't have to get dressed or leave my house!
I took my Pottermore sorting test finally, and got Ravenclaw. I wouldn't say I was surprised because that does sound like me. But I always by Gryffindor and Slytherin merchandise, mainly because I like the colours. Now I don't even know! Haha. Anyone else taken it? I even did another test after on a different site and still got Ravenclaw.
I've also spent my week trying to finally catch up on replying to comments. I ended up having almost 300 to reply to and now swear to never wait that long again. I've still got to go visit blogs though, which I'll probably spend an evening doing very soon. I am still obsessed with Instagram, even though I have yet to be tagged in anything. Soon I'm going to cave and just start doing the tags anyway, they look like fun.
I also reached over 2,000 Bloglovin' follower, which is just incredible.
Leaving Time by Jodi Picoult
For more than a decade, Jenna Metcalf has never stopped thinking about her mother, Alice, who mysteriously disappeared in the wake of a tragic accident. Refusing to believe that she would be abandoned as a young child, Jenna searches for her mother regularly online and pores over the pages of Alice's old journals. A scientist who studied grief among elephants, Alice wrote mostly of her research among the animals she loved, yet Jenna hopes the entries will provide a clue to her mother's whereabouts.
Desperate to find the truth, Jenna enlists two unlikely allies in her quest. The first is Serenity Jones, a psychic who rose to fame finding missing persons—only to later doubt her gifts. The second is Virgil Stanhope, a jaded private detective who originally investigated Alice's case along with the strange, possibly linked death of one of her colleagues. As the three work together to uncover what happened to Alice, they realize that in asking hard questions, they'll have to face even harder answers.
As Jenna's memories dovetail with the events in her mother's journals, the story races to a mesmerizing finish. A deeply moving, gripping, and intelligent page-turner, Leaving Time is Jodi Picoult at the height of her powers.
You probably wouldn't know this by looking at my blog, which is 99.9% YA reviews, but I read a ton of adult fiction before I started blogging. It's just that most of the books I find whilst blogging are YA, so YA seems to have taken over. But Jodi Picoult is one of my favourite authors and I had to buy her book when it came out on the 14th. Except that was only the US, Canada and Australia release date. So the boyfriend was lovely and ordered it for me online so I didn't have to wait for November. Currently reading and loving it.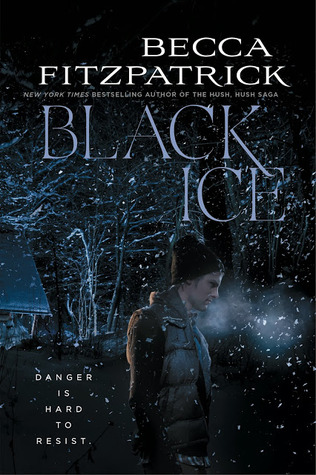 Black Ice by Becca Fitzpatrick
Sometimes danger is hard to see... until it's too late.
Britt Pfeiffer has trained to backpack the Teton Range, but she isn't prepared when her ex-boyfriend, who still haunts her every thought, wants to join her. Before Britt can explore her feelings for Calvin, an unexpected blizzard forces her to seek shelter in a remote cabin, accepting the hospitality of its two very handsome occupants—but these men are fugitives, and they take her hostage.
In exchange for her life, Britt agrees to guide the men off the mountain. As they set off, Britt knows she must stay alive long enough for Calvin to find her. The task is made even more complicated when Britt finds chilling evidence of a series of murders that have taken place there... and in uncovering this, she may become the killer's next target.
But nothing is as it seems in the mountains, and everyone is keeping secrets, including Mason, one of her kidnappers. His kindness is confusing Britt. Is he an enemy? Or an ally?
Another gift from the boyfriend and a book that I am unsure about. I've been hearing mixed reviews for this one.
The School for Good and Evil by Soman Chainani
"The first kidnappings happened two hundred years before. Some years it was two boys taken, some years two girls, sometimes one of each. But if at first the choices seemed random, soon the pattern became clear. One was always beautiful and good, the child every parent wanted as their own. The other was homely and odd, an outcast from birth. An opposing pair, plucked from youth and spirited away."
This year, best friends Sophie and Agatha are about to discover where all the lost children go: the fabled School for Good & Evil, where ordinary boys and girls are trained to be fairy tale heroes and villains. As the most beautiful girl in Gavaldon, Sophie has dreamed of being kidnapped into an enchanted world her whole life. With her pink dresses, glass slippers, and devotion to good deeds, she knows she'll earn top marks at the School for Good and graduate a storybook princess. Meanwhile Agatha, with her shapeless black frocks, wicked pet cat, and dislike of nearly everyone, seems a natural fit for the School for Evil.
But when the two girls are swept into the Endless Woods, they find their fortunes reversed—Sophie's dumped in the School for Evil to take Uglification, Death Curses, and Henchmen Training, while Agatha finds herself in the School For Good, thrust amongst handsome princes and fair maidens for classes in Princess Etiquette and Animal Communication.. But what if the mistake is actually the first clue to discovering who Sophie and Agatha really are…?
I bought this thanks to the review that
Ashana
wrote.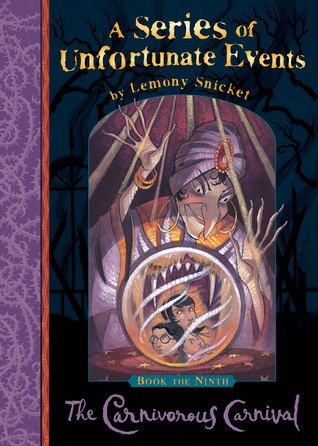 A Series of Unfortunate Events by Lemony Snicket
Dear Reader, I'm sorry to say that the book you are holding in you hands is extremely unpleasant.It tells an unhappy tale about three very unlucky children.Even though they are charming and clever,the Baudelaire siblings lead lives filled with misery and woe.
If I borrow series then I
borrow
series. I borrowed every book in the series, mainly because of all the love I've been seeing this series get on
Notebook Sisters
and BookTube. When I have three weeks off, I plan to just sit and binge read all of these!
Belzhar by Meg Wolitzer
If life were fair, Jam Gallahue would still be at home in New Jersey with her sweet British boyfriend, Reeve Maxfield. She'd be watching old comedy sketches with him. She'd be kissing him in the library stacks.
She certainly wouldn't be at The Wooden Barn, a therapeutic boarding school in rural Vermont, living with a weird roommate, and signed up for an exclusive, mysterious class called Special Topics in English.
But life isn't fair, and Reeve Maxfield is dead.
Until a journal-writing assignment leads Jam to Belzhar, where the untainted past is restored, and Jam can feel Reeve's arms around her once again. But there are hidden truths on Jam's path to reclaim her loss.
I've seen mixed reviews, so I'm a little nervous.
Cruel Summer
by James Dawson
A year after Janey's suicide, her friends reunite at a remote Spanish villa, desperate to put the past behind them. However, an unwelcome guest arrives claiming to have evidence that Jane was murdered. When she is found floating in the pool, it becomes clear one of them is a killer. Only one thing is for certain, surviving this holiday is going to be murder…
I've wanted to read his books ever since I saw him on the panel at YALC.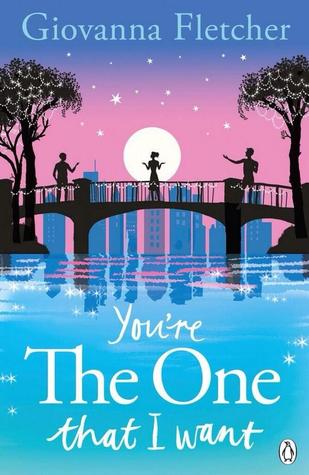 You're the One that I Want by Giovanna Fletcher
Maddy, dressed in white, stands at the back of the church. At the end of the aisle is Rob - the man she's about to marry. Next to Rob is Ben - best man and the best friend any two people ever had.
And that's the problem.
Because if it wasn't Rob waiting for her at the altar, there's a strong chance it would be Ben. Loyal and sensitive Ben has always kept his feelings to himself, but if he turned round and told Maddy she was making a mistake, would she listen? And would he be right?
Best friends since childhood, Maddy, Ben and Rob thought their bond was unbreakable. But love changes everything. Maddy has a choice to make but will she choose wisely? Her heart, and the hearts of the two best men she knows, depend on it...
I just adore the cover! Also, Love, Rosie was a disappointing read and so I am craving another chick lit, one that hopefully won't suck and will actually be romantic.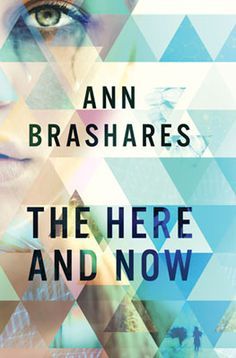 The Here and Now by Ann Brashares
Follow the rules. Remember what happened. Never fall in love.
This is the story of seventeen-year-old Prenna James, who immigrated to New York when she was twelve. Except Prenna didn't come from a different country. She came from a different time—a future where a mosquito-borne illness has mutated into a pandemic, killing millions and leaving the world in ruins.
Prenna and the others who escaped to the present day must follow a strict set of rules: never reveal where they're from, never interfere with history, and never, ever be intimate with anyone outside their community. Prenna does as she's told, believing she can help prevent the plague that will one day ravage the earth.
But everything changes when Prenna falls for Ethan Jarves.
Endgame: The Calling by James Frey & Nils Johnson-Shelton
I've been reading some articles about the author that have put me off this book. I'm also unsure of the premise as it seems like a bit of a rip off! I don't even know at this point.
In my
blogoversary post
I posted my giveaway to celebrate 1 year of blogging. I am giving one winner the chance to win up to £40 worth of books of their choice from Book Depository. I am also giving one runner up a book of their choice, worth up to £10 from Book Depository.