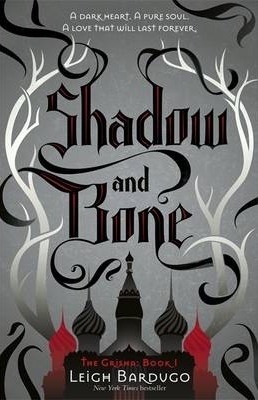 Title: Shadow and Bone
Author: Leigh Bardugo
Publisher: Indigo
Buy this book: Amazon
/ Book Depository

The Shadow Fold, a swathe of impenetrable darkness, crawling with monsters that feast on human flesh, is slowly destroying the once-great nation of Ravka. Alina, a pale, lonely orphan, discovers a unique power that thrusts her into the lavish world of the kingdom's magical elite - the Grisha. Could she be the key to unravelling the dark fabric of the Shadow Fold and setting Ravka free? The Darkling, a creature of seductive charm and terrifying power, leader of the Grisha. If Alina is to fulfil her destiny, she must discover how to unlock her gift and face up to her dangerous attraction to him. But what of Mal, Alina's childhood best friend? As Alina contemplates her dazzling new future, why can't she ever quite forget him?
I have such a horrible habit of putting off reading books that everyone seems to be raving about. It's not entirely my fault, hype has a habit of making our expectations for a book completely skyrocket, which can lead to the book disappointing and who would want to do that to themselves. Shadow and Bone was a book that was better than I had expected, as well as being different to what I had expected and it was also just what I needed. I'm not kicking myself for waiting so long though, now I have the ability to binge read the entire series.
Mal & Alina = Anastasia & Dimitri to me.
It feels like Leigh Bardugo has already earned herself a spot on my auto-buy author list. This book was superbly written and the writing style was one that completely worked for me. I could not put the book down, it moves along at such a fast pace that I had to keep reading because there was no way I couldn't find out what was going to happen next. The pacing worked for me because the action seems to be at a constant steady flow, there was no point where I felt bored or like the story was lacking action. You also learn more about the world as the book goes along, which means that you don't have to deal with any horrible info-dumps.
The book grabbed me from the very first page and I especially loved the world that Bardugo created. Ravka has a very Russian feel to it, which appeals to me since I've been fascinated with Russia since I was a child and I used to obsessively watch
Anastasia
. I actually found that a few of the characters in Shadow and Bone made me think of
Anastasia
characters. Alina reminded me of Anya, the orphan girls who see's herself as really plain and in no way special. Mal really reminded me of Dimitri, he had the looks and the confidence. So of course I was Team Mal all the way, Anastasia and Dimitri have to end up together! And then the Apparat made me think of Rasputin, but more like the real life Rasputin then the crazy, zombie-type from the film.
Alina was an okay heroine, but I really did get fed up of listening to her doubt herself and her looks over and over again. She started to sound like a broken record and I just wanted her to shut up already. I did enjoy seeing her transformation from normal orphan to Grisha and the journey that takes her on. She doubts her powers and her ability as much as she doubts herself in anything else, so it was good to see her work towards overcoming that. I am a total sucker when it comes to the childhood friendship turning into romance storyline (Unless you're name is Gale). So I was Team Mal from the very beginning and just wanted that ship to sail already. Mal won me over very quickly, even if he isn't the most solid of love interests.
The Darkling was probably my biggest issue with this book. I HATED HIM! I am so fed up of these characters, the ones who are complete arseholes but everyone seems to love. It's not like they love to hate them, they love to love them and they ship them with the main character. NO! The Darkling was awful, creepy and I just wanted him to hurry up and die. The whole Alina/Darkling romance didn't work at all, I don't see why anyone would ship that. The characters seemed to barely have any conversations together before the Darkling is suddenly trying to kiss Alina and saying she's all he can think about. So maybe he's a fascinating villain, but he's still a villain, still a douche and in no way a love interest.
I've been really struggling to review and rate this book, which is entirely my fault because I've waited until I've read all three books. BIG MISTAKE! My feelings for the series changed as I went from one book to the other and I feel it's changing my review. I feel like my review for Shadow and Bone would have been a lot different if I'd reviewed it straight after finishing it, something I will be remembering to do with books from now on. So know that I really did enjoy this book, it was a brilliant YA fantasy and gave me everything I needed. My only real issue with the book was the Alina/Darkling romance that seemed very forced and didn't work for me. But I loved the world building, the magic system, the pacing and the action. I finished the book and immediately piked up book two, something you're definitely going to want to do.