I might have mentioned it once or twice, probably more like a million times, that I am in the worlds worst reading slump right now. I am struggling so much with reading, but it's also affecting my writing of posts and reviews as well. I just don't seem to have the energy, time or concentration for reading atm. This slump has been going on now for almost two months, which feels like forever. I have been reading a lot less, which means reviewing a lot less and this really bothers me.
After two months of being in a slump, I feel like I have tried absolutely everything possible to try and get myself out of it. Nothing has worked so far. So, as it will be totally helpful, I thought I would share with you all the ways I have tried to get out of my reading slump. In return for all of my ingenious ideas, that totally work *wink wink*, you wonderful bloggers could then share with me some of your own ideas for how I can get out of this slump.
Turn To The Trusty Favourites
The expectation:
I love you, I know I love you. I shall read you, love you and your awesomeness shall restore my faith in books and my desire to read them!
The reality
I love you, you're awesome. Everything I read after you will just seem that little bit more rubbish and pales in comparison. My slump worsens, I cry.
Stare At A Book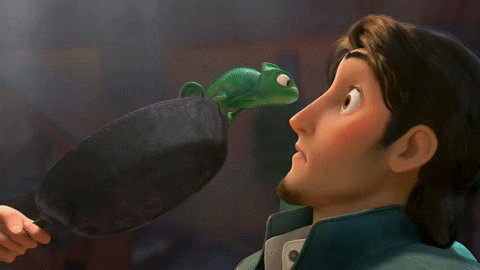 A Pascal style intense stare is required!
The expectation:
If I stare at this book long enough then the desire to read it will suddenly come to me.
The reality:
My eyes are starting to hurt, the cover now suddenly looks weird to me. Ouch, now I have an intense headache caused by all the intense staring. I couldn't read if I tried, I shall retreat to bed and hide.
Hit Self With Book
The expectation:
I clearly need some sense knocked into me, books are amazing! I do it by hitting myself with the thing that's causing all this trouble.
The reality:
I just knocked myself out because I didn't think about the fact that The Order of the Phoenix weighs a ton. But don't worry, when I come to, I will make that book my bitch!
Lock Self In Room With Nothing But Books
The dance isn't required, but it's recommended!
The expectation:
If there are no other distractions then I will be forced to read.
The reality:
I'm hungry. I'm thirsty. I must leave this room and find sustenance!
Watch Hours Of The Office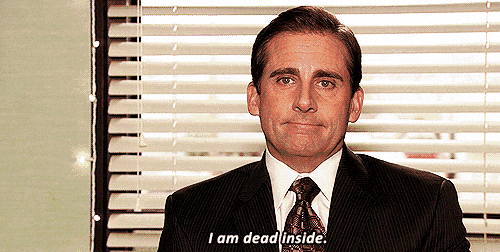 Michael understands me and my reading slump!
The expectation:
My brain will be filled with such happiness from all the hilarious and aww moments of this series. Then I will no longer feel stressed and reading will suddenly be easy again.
The reality:
Wow. I just watched 8 seasons of The Office. What was I supposed to be doing?
Watch Disney Films Non-Stop
The expectation:
It's Disney! Disney can fix ANYTHING!
The reality:
Why don't I have the Beasts library? Why can't I swim like a mermaid? Why don't animals talk to me? Why is my life not a Disney film? I will now sink into a my-life-isn't-a-Disney-film depression and be unable to do anything but wallow in self pity.
The expectation:
The only way to get through a reading slump is to power through it. Read a book and then slump will disappear.
The reality:
Yup, look at me finishing a book. It only took me... five days! Now I have no desire or energy to pick up anything else. It will just disappoint me!
Just keep reading! It will work eventually.
The expectation:
That first read didn't work, but this one is going to be THE ONE!
The reality:
Wow! Nope.
Cry A Little (Inside)
Or... A LOT!
The expectation:
None. I just want to feel sorry for myself.
The reality:
Now I feel really sorry for myself.
The expectation:
If I buy more books then I will have more to choose from. I am bound to find something I want to read and that will blow me away and take me out of my slump.
The reality:
I just filled up yet another bookcase and the boyfriend looks about ready to murder me.
Throw Book Across The Room
I don't advise smashing a window though.
The expectation:
It's clearly the books fault that I'm in a reading slump. By throwing it across the room, I have now shown the book who's boss and it will sort itself out. We won't be having this problem any more.
The reality:
Now I've damaged my book! The pages are bent slightly, the covers a little torn! Now I need to buy a replacement, my OCD when it comes to books makes it impossible for me to put this atrocity back on my shelf.
The expectation:
There isn't a problem the wonderful people of the internet can't solve for me. They'll know what to do!
The reality:
I don't know how to process all the different and contradicting ideas I just got suggested to me! I'm so confused.
The expectation:
I will then have a book fort. Who doesn't want a book fort?
The reality:
Now I will have to reorganise all my books back onto my bookshelf. I have no time to read. Maybe this was my plan all along.
Buddy Read
The expectation:
I will be motivated to read the book. The other person will share their love of the book with me, making me want to read it more.
The reality:
Oh, you finished it? I'm pretty far... like, page 1.
In all honesty, blogosphere, I could probably do with somebody just doing this to me:
Any volunteers?
So those are just some of the wonderful ideas I have for overcoming my reading slump. They are pretty much all tried and tested. And all pretty much useless. But you should do them all anyway! This post itself is just another way for me to procrastinate and not read. Reading is hard right now and I just can't seem to get into any book.
I could do with any and all advise. What works for you usually or what got you out of your last reading slump. Or what do you do to distract you when you're in a reading slump. Do you have any ideas that are way more helpful and serious than mine?