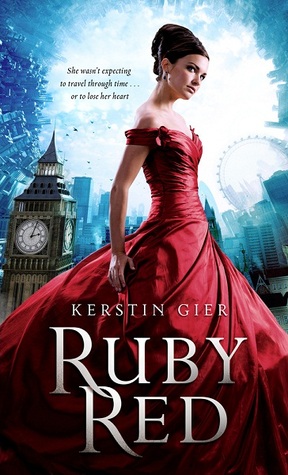 Title:
Ruby Red
Author:
Kerstin Gier
Publisher:
Square Fish
Buy This Book:
Amazon
/
Book Depository
Sixteen-year-old Gwen lives with her extended - and rather eccentric - family in an exclusive London neighborhood. In spite of her ancestors' peculiar history, she's had a relatively normal life so far. The time-traveling gene that runs like a secret thread through the female half of the family is supposed to have skipped over Gwen, so she hasn't been introduced to "the mysteries," and can spend her time hanging out with her best friend, Lesly. It comes as an unwelcome surprise when she starts taking sudden, uncontrolled leaps into the past.
She's totally unprepared for time travel, not to mention all that comes with it: fancy clothes, archaic manners, a mysterious secret society, and Gideon, her time-traveling counterpart. He's obnoxious, a know-it-all, and possibly the best-looking guy she's seen in any centrury . . . .(Goodreads summary)
I don't know why I had such high expectations when I started Ruby Red, but I did. I think it's because it has such a high average rating on Goodreads, is praised a lot around the blogosphere and it's also been recommended to me quite a lot. I ended up being highly surprised by what I got, and not in a good way.
Everything about Ruby Red fell really flat for me, from the general story, to the setting, to the characters. It all felt very one dimensional, like there wasn't much to anything at all. This is a book that's translated from the original German, so maybe some things just got lost in translation. But, personally, this wasn't a good book and nor was it a very good start to a series. I finished it and had absolutely no desire to continue.
My main issue was the characters, none of them felt unique or that they had any real personality. Part of me believes a lot was lost in translation here, but maybe it just isn't a well written book in general. The characters all seem to talk and act the same, none of them really had a personality and I therefore couldn't connect to them. They were all quite dull and boring, and seemed so similar that I found it really hard to differentiate one from the other.
Rather more accurate!
The dialogue didn't flow, it felt very forced instead of feeling natural. The characters are supposed to live in London but they talk as you would expect someone who wasn't from England might expect a Londoner to talk, but it doesn't work. It doesn't seem real or authentic, it just kept reminding me of that scene in forgetting Sarah Marshal. The author seemed to be trying too hard to make them sound British that they never ended up sounding very British at all. Other than to mention Selfridge's five to a million times. I'm surprised they weren't constantly mentioning tea as well, you know, 'cause us British people are just all obsessed with tea!
It also has the issue of being quite a slow paced and drawn out book, where I never really felt like much really happens. It's like one big info dump book, like it's just setting the scene for the next one rather than being a story of it's own. It has the issue of being a book that is part of a series that is clearly one main story drawn out over three boos. It doesn't have a main storyline of it's own that is wrapped up, with an ending that leads to a sequel. Nope, it's one story that just sort of cuts off and leaves me frustrated because it' left me with no desire to continue the series.
I was excited to get the London setting, but that turned out to be just as dull as the dialogue. I never really felt the London vibe from this book, it could have been set anywhere really. I just found that it was lacking, it didn't feel like London. Maybe that is played on more in the next books but, like I've said, I won't be reading them to find out.
Me whilst trying to read this book.
There is no romance in this but it definitely alludes to there being one in the next book. But, eh, it's just... no! There just isn't anything there, if I am honest. That's another reason I gave up on the series, I know that this isn't a romance that is going to interest me at all. I wouldn't really be rooting for these characters to get together or anything.
I have had quite a few people mention that the series gets better and that the third is the best of them all. But, I don't think that is really worth me getting to. I have absolutely no connection to these characters or their story, I don't even really have much of an interest in finding out what happens to them. The time travel aspect was a little boring in this and didn't excite me the way I thought it would. I just felt very let down by the whole book, it wasn't what I was expecting at all.
2/5 Butterflies
I can't even try to find any positives to this read, for me it was just terrible. It took me from being in a reading slump to being in a coma. Everything was lacking - from storyline, to character development, to the setting. I have heard people say this is just one big story cut into three books, which is why it probably feels drawn out and a bit dull. I just didn't connect to any aspect of this story and I won't be continuing this series.