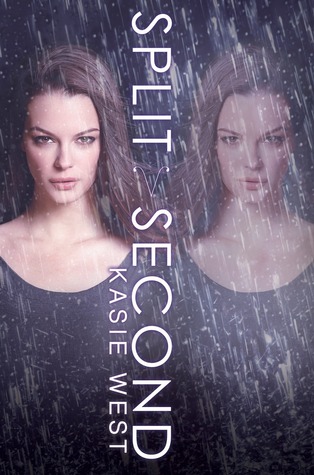 Title: Split Second (Pivot Point #2)
Author:
Kasie West
Publisher:
HarperTeen
Buy This Book:
Amazon
/
Book Depository
Life can change in a split second.
Addie hardly recognizes her life since her parents divorced. Her boyfriend used her. Her best friend betrayed her. She can't believe this is the future she chose. On top of that, her ability is acting up. She's always been able to Search the future when presented with a choice. Now she can manipulate and slow down time, too . . . but not without a price.
When Addie's dad invites her to spend her winter break with him, she jumps at the chance to escape into the Norm world of Dallas, Texas. There she meets the handsome and achingly familiar Trevor. He's a virtual stranger to her, so why does her heart do a funny flip every time she sees him? But after witnessing secrets that were supposed to stay hidden, Trevor quickly seems more suspicious of Addie than interested in her. And she has an inexplicable desire to change that.
Meanwhile, her best friend, Laila, has a secret of her own: she can restore Addie's memories . . . once she learns how. But there are powerful people who don't want to see this happen. Desperate, Laila tries to manipulate Connor, a brooding bad boy from school—but he seems to be the only boy in the Compound immune to her charms. And the only one who can help her.
As Addie and Laila frantically attempt to retrieve the lost memories, Addie must piece together a world she thought she knew before she loses the love she nearly forgot . . . and a future that could change everything. (Goodreads summary)
I really enjoyed Pivot Point, even if I didn't like it as much as West's contemporary fiction, so it made sense to move straight on to Split Second after finishing it. I didn't quite know what to expect from it, but I know that this book wasn't what I thought it was going to be. I'd say that overall I enjoyed it as much as Pivot Point, I had a few tiny issues with it but thought it was a good book overall.
The whole plot of Pivot Point was very Sliding Doors, where one little decision would change everything. Addie gets to watch the two outcomes play out before she even needs to make up her mind. In the end, there's only one choice she could make, but that alone confused me. If you see into the future and know how something would play out, could you not change one smaller detail to change that future yet again? So couldn't she have picked the Trevor path and then changed small details so that certain events didn't occur? To me the answer would logically be yes, she could just make different decisions to the ones she has seen herself make. But, whatever, I will let that go even though it bugs me!
Split Second surprised me because we suddenly don't just get Addie's POV any more, we get Laila's. That really threw me off at first because, even though it's kind of obvious from the blurb, I honestly wasn't expecting it. It wasn't necessarily a bad thing, it just took me a long time to get used to it and the constantly going back and forth between them. It's important to the story because we need to follow Laila as she tries to learn how to restore memories, but it still seemed strange to me.
It was lovely to see Trevor and Addie find each other again, I was really looking forward to that. Their romance was utterly adorable in Pivot Point, so the idea that we get to watch them fall in love again seemed amazing. It plays out so differently in this, and whilst they have their sweet moments, I wish they hadn't lost how it all played out the first time.
Connor is a character that is introduced in this, he's the guy who can help Laila work out how to restore memories. He was actually a really great character but, let's be honest, he's just there to be Laila's love interest. I really wanted to be able to root for these two, but I just felt like the whole romance was unnecessary. I guess I just didn't care enough about the two together to really get behind them. They definitely have sweet moments, funny moments and everything else; but I wasn't really all that bothered by them.
I know that the slump I am in at the moment is probably affecting my enjoyment of books. It's a real struggle to get into books and even harder to stick with them till the end. I found that Split Second started off really slow for me, I wasn't that interested in the beginning. This is a book that picks up a lot of speed during the second half and I was a lot more invested by then.
4/5 Butterflies
If I am completely honest, I enjoyed Split Second but I wasn't super impressed by it. It was an okay sequel but it definitely wasn't what I was expecting. It was lovely to see Trevor and Addie fall for one another again, who doesn't want to see that? But, overall, I just felt this book was lacking something. I know others want a third book but I would rather stop here. I didn't get all the answers I was looking for about the Compound and that bugged me. The world building, as far as that was concerned, could be a whole lot better.I'll definitely be reading whatever West writes next, she's a talented writer.